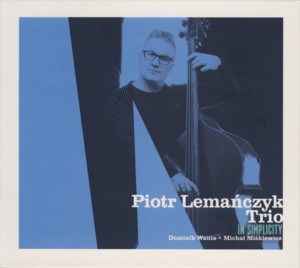 PIOTR LEMANCZYK ~ IN SIMPLICITY
SOLITON 670 (Barcode: 5901571096704) ~ POLAND ~ Jazz
Recorded: 2019
Released: 2020
---
As hard as it is to believe, this is the first piano trio album by veteran Polish Jazz bass virtuoso / composer Piotr Lemanczyk

Find albums by this artist

. He combined forces with two top local musicians, pianist Dominik Wania

Find albums by this artist

and drummer Michal Miskiewicz

Find albums by this artist

, and recorded eight original compositions, all created by him, which are presented here. The album offers superb sound quality, which for piano trio recordings is an essential part of the entire artistic experience.

For people familiar with Lemanczyk´s recording career as a leader and sideman this album is about to change the entire perception of his musical persona. His traditional association with mainstream Jazz, always wonderfully creative and sublimely executed, is however completely shattered here, with his unforeseen venture into modern Jazz, very open and often startlingly full of Free Form vistas. The music is still very well behaved of course (admittedly to a trained ear), with distinct melody motifs and stable rhythmic backbone, but the piano parts float freely on the wings of the imagination, taking the listener on an emotional rollercoaster ride.

It is probably not a wild guess to assume that Wania´s presence is the decisive factor influencing the character of this music. His charismatic, almost magical musical mastery turns everything he touches into instant musical gold, and this album is just one of many examples of Wania´s artistry. He is undoubtedly a force of Nature and a most significant Polish Jazz musician to arrive on the scene in the last decade. The piano playing on this album is an absolute pinnacle of modern Jazz.

Lemanczyk not only offers his brilliant compositions, but also performs some hair-raising bass soli throughout the album´s duration, which combine his virtuosity, sublime feel of melody and improvisation aesthetics, which are very rarely found within one person. Since he is after all the leader, his bass parts are more frequent and expanded than one would usually find on a piano trio album, all for the best of course.

Miskiewicz, assuredly a Master drummer, is one of the most diverse players on the Polish scene, with a most impressive recording legacy. But he is, to me, first and foremost an ideal "third leg" in a piano trio setting, which of course is already quite obvious to Jazz listeners familiar with his career so far. His performances are, as expected, nothing short of brilliant, full of inventiveness, and most importantly the precise dynamics, which is so important in the delicate piano trio setting.

Overall this is an amazing album, a wonderful breath of fresh air, which makes one´s head dizzy at first but euphoric for the duration. Playing on "repeat" (happens very rarely in my case) this music gets better with every spin, as hard as it is to believe. It seems I already have my Polish Jazz album of the years for 2020. Don´t you dare to miss it!!!
---