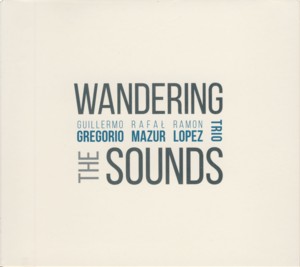 GREGORIO / MAZUR / LOPEZ ~ WANDERING THE SOUNDS
FSR 2018/09 (Barcode: 5905279364325) ~ ARGENTINA ~ Free Jazz / Improvised Music
Recorded: 2018
Released: 2018
---
This is an album by international Improvised Music trio comprising of Argentinean (resident in NY) clarinetist Guillermo Gregorio

Find albums by this artist

, Polish acoustic bass guitarist Rafal Mazur

Find albums by this artist

and Spanish (resident in France) drummer Ramon Lopez

Find albums by this artist

. The album presents nine improvised tracks recorded in studio, all co-credited to the three musicians.

The music is a wonderfully introvert trialogue between Master musicians, calm and relaxed and yet full of energy and expression. All three musicians perform with great respect towards each other, displaying virtuosity but eschewing unnecessary showing off of their individual abilities and creating a coherent trio statement.

Although fully Improvised, the music is unusually (for the idiom) embraceable and accessible to a relatively wide range of listeners, not necessarily form the strict Avant-Garde circles, but also "straightforward" Jazz enthusiasts with a tolerance towards complex improvised explorations.

Gregorio is a superb clarinetist, with a simple, natural sound and fabulous technique, which makes his playing instantly lovable. His playing immediately brings a wave of heartache in view of the death of the legendary Israeli clarinetist Harold Rubin

Find albums by this artist

, who left us just a few days ago, and with whom I worked closely for decades producing many albums together.

Mazur is a unique phenomenon with hardly any competition, both because of his unusual instrument and the way he plays it. The sound and the pulsations he manages to create is a trademark of the Improvised Music idiom and his level of understanding and telepathic communication with his partners is nothing short of miraculous. He has already an impressive recorded legacy behind him, which of course is a must to follow by every Improvised Music connoisseur.

Lopez is another trademark name on the Improvised Music scene and his playing here fully justifies the reputation he earned over the years. His ability to play the drums as delicately and yet with full power, as this trio´s music demands is absolutely brilliant.

Overall this is a superb Improvising Music album which proves that this kind of music can be communicative, coherent and lasting, even to people from outside of the genre. I had a wonderful time listening to it and it is one of rather few albums of this kind I could listen to repeatedly. Wholeheartedly recommended!
---