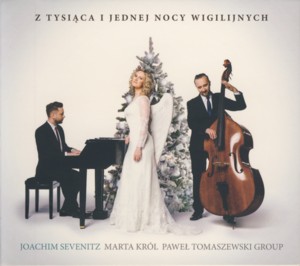 JOACHIM SEVENITZ ~ Z TYSIACA I JEDNEJ NOCY WIGILIJNYCH
NOT ON LABEL (Barcode: 798190106458) ~ POLAND ~ Xmas Jazz
Recorded: 2019
Released: 2019
---
This is an album conceived of produced by Polish (resident in Germany) bassist / arranger Joachim Sevenitz

Find albums by this artist

, which presents ten well known Christmas Carols arranged in the spirit of the Jazz idiom and involving some top Polish Jazz players like keyboardist Pawel Tomaszewski

Find albums by this artist

, vocalist Marta Krol

Find albums by this artist

and drummer Pawel Dobrowolski

Find albums by this artist

. A string quartet accompanies the quartet and seven guests play / sing on selected tracks.

I usually avoid Christmas Jazz albums like the plague (especially these days), as they usually are the epitome of kitsch, but this album is an exception to the rule. It is both wonderfully arranged and performed, with each of the songs being cleverly referenced to a different musical setting.

The instrumental performances are excellent, as expected. Tomaszewski´s enchanting parts, both on the acoustic piano and the keyboards, are simply perfect, and he remains by far one of my favorite Polish keyboard wizards. Sevenitz and Dobrowolski take care of the rhythm section duties with grace and the vocals express the moods nicely. The string quartet parts fit well within the general musical messages and moods and the guests add the proverbial cherries on top.

Overall this is a pleasant listening experience, elegant and clever, which turns the somewhat worn-out concept of Christmas albums into a worthy piece of music that can be enjoyed also in the spring ;) Definitely worth investigating!
---