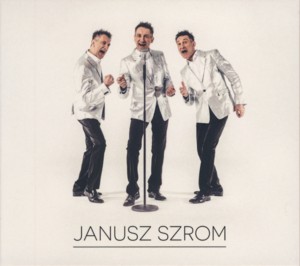 JANUSZ SZROM ~ JANUSZ SZROM
NOT ON LABEL ~ POLAND ~ Jazz
Recorded: 2019
Released: 2020
---
This is a brilliant album by veteran Polish Jazz vocalist / composer Janusz Szrom

Find albums by this artist

, performed using only multi-tracked vocals and no instrumental backing whatsoever. The album presents twenty-one relatively concise tracks, mostly originals, composed by Szrom (eight tracks) and Pawel Betley

Find albums by this artist

(also eight tracks) and a few others. Only two tracks are songs including lyrics, all the rest are pure vocalese.

Although the concept of unaccompanied solo vocal albums is not new as such – see the phenomenal and revolutionary "The Voice

Find albums with this title

" by Bobby McFerrin

Find albums by this artist

from 1984 – but those are very rare indeed. It takes not only skill and talent, but first of all also courage and imagination to undertake such a demanding task and it´s great to see Szrom fearlessly and proudly facing the immensely difficult challenge and successfully create a beautiful piece of music.

The music offers a diverse collection of musical themes, which mix Jazz with World Music, Pop and other genres. The performances utilize a plethora of vocal techniques, including a cappella, imitation of instruments, rhythmic phrasing, scat, complex harmonies and so on. Szrom´s impressive vocal range manages to produce an imitation of vocal groups, like the legendary Polish NOVI

Find albums by this artist

vocal ensemble, or other ensembles like Les Double Six

Find albums by this artist

or Swingle Singers

Find albums by this artist

, all created in this case by the voice of a single person.

It doesn´t really make sense to say much more about this music, as nothing is able to replace the actual experience of listening to it of course.

Overall this is a stunning, unique, and completely overwhelming album, which should astonish the connoisseurs of vocal Jazz, or in fact all lovers of the human voice, knocking them out of their socks. I can´t imagine any true music lover not falling in love with this gem immediately and I hope it gets to be heard by as many music lovers around the world as possible.

Hats off my Friend! Chapeau bas, etc.!
---