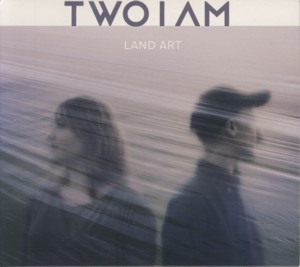 TWO I AM ~ LAND ART
NOT ON LABEL (Barcode: 5908252860807) ~ POLAND ~ Jazz-World Fusion
Recorded: 2018
Released: 2019
---
This is the debut album by Polish duo called Two I Am

Find albums by this artist

, which consists of vocalist / songwriter Barbara Blaszczyk

Find albums by this artist

and keyboardist Przemyslaw Pankiewicz

Find albums by this artist

. Cajon player Wojciech Lubertowicz

Find albums by this artist

guests on one track. The album presents seven tracks, six of which are original compositions by Blaszczyk and one is a standard. Four of the tracks feature lyrics, one in Polish and three in English. The music was arranged and produced by Pankiewicz.

The music absolutely escapes classification, and for lack of a better option I see it as a Jazz-World Fusion, as it amalgamates Jazzy moods and improvisations with strong Polish Folklore inspirations. But regardless of which definition one wants to apply here, the music is absolutely brilliant from start to finish.

The intimate vocal / keyboards setting is perfect in this case and lacks absolutely nothing to make this music work. Blaszczyk offers beautiful voice parts in a wide palette of vocalese and singing, while Pankiewicz provides sensitive and imaginative accompaniment, delicately emphasizing the vocal parts and managing to work out some impressive solo parts as well.

The music is like a breath of fresh air, deeply melancholic and highly melodic but at the same time spacey and open enough to include improvisation and leave something for the listener´s imagination.

Personally I prefer when Blaszczyk uses vocalese and honestly think that using lyrics, especially those in English, degrades the result on the whole, but it certainly is not fatal.

Overall this is an exceptional debut effort, which leaves the listener wishing for more, which hopefully will arrive soon. It proves that the young generation of Polish Jazz musicians is open to explore and bravely take the path less travelled. Congratulations are in order!
---