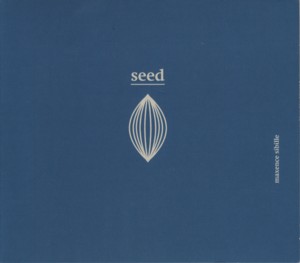 MAXENCE SIBILLE ~ SEED
SHED 013 ~ FRANCE ~ Jazz-Rock Fusion
Recorded: 2018
Released: 2019
---
This is the debut album as a leader by French (resident in Switzerland) drummer / composer Maxence Sibille

Find albums by this artist

recorded in a sextet setting with Polish trumpeter Tomasz Dabrowski

Find albums by this artist

and French / Swiss players: pianist Gauthier Toux

Find albums by this artist

, electric piano player Matthieu Llodra

Find albums by this artist

, bassist Julien Herne

Find albums by this artist

and electronics operator Valentin Liechti

Find albums by this artist

. The album presents eight original compositions, all by Sibille.

The music is modern mainstream Jazz, based on beautiful melodic themes and performed with contemporary approach using slight electronic effects and a minimalist relaxed atmosphere and mostly open space / Scandinavian vistas. Definitely on the lighter side of the Jazz spectrum, this music could be classified as a kind of contemporary Fusion, but of course the genre boundaries are so fluid these days.

Dabrowski and Toux are clearly the more Jazz oriented players here whereas the rest of the sextet tends towards electronics and Fusion, together creating a splendid amalgam, which is interesting and entertaining at the same time.

Dabrowski, for whom such musical environment is rather unusual lately (he is mostly involved in Avant-Garde projects) us absolutely spectacular on this album, showing his wonderful versatility and ability to play long melodic lyrical soli, which his followers have not enjoyed recently. This is a great reminder of his diverse abilities and immense talents. With all the due respect to the other players on this album, he is clearly from another dimension, musically.

The album is also a splendid example of the growing tendency to use electronics within the Jazz genre, which this album does skillfully, elegantly and very effectively.

Overall this is a splendid debut and a great collection of solid compositions and superb playing, in addition to the interest of Polish Jazz fans in Dabrowski´s contributions. Warmly recommended!
---