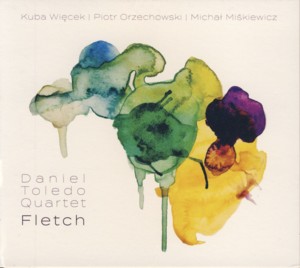 DANIEL TOLEDO ~ FLETCH
AUDIO CAVE 2020/002 (Barcode: 5908298549018) ~ ECUADOR ~ Avant-Garde Jazz
Recorded: 2018
Released: 2020
---
This is the third album by Ecuadorian bassist / composer Daniel Toledo

Find albums by this artist

, recorded in a classic quartet setting with all Polish team consisting of saxophonist Kuba Wiecek

Find albums by this artist

, pianist Piotr Orzechowski

Find albums by this artist

and drummer Michal Miskiewicz

Find albums by this artist

. The album presents seven original compositions, all composed by Toledo. The music was recorded at the excellent Monochrom Studio and engineered by Ignacy Gruszecki

Find albums by this artist

.

Toledo´s steady output of albums, starting in 2014 and offering a new recording every couple of years (I had the pleasure of writing the liner notes for his second album "Atrium

Find albums with this title

"), as well as his cooperation with Orzechowski, follow a steady course of development as a composer and player. The music on this album significantly departs from the earlier melody based conventional modern Jazz into a way more spacey, free spirited ventures and complex odd meters based rhythmic background. The metamorphosis is quite dramatic and presents Toledo in a completely new perception.

Orzechowski, who plays both acoustic and electric piano, and who is the focal soloist, takes upon himself a major role in voicing this new approach, playing of course as brilliantly as always, but again quite differently from his usual environment, and listeners familiar with his impressive output as instrumentalist will have an opportunity to hear him from a different point of view. Wiecek steps in boldly and this music seems to suit his stylistic preferences ideally. Although his statements are relatively limited they are all right on the money. Miskiewicz, one of Poland´s most versatile and experienced drummers, handles the difficult rhythmic challenges without a hitch, as expected. Toledo´s solid bass parts are of course the spinal chord which connects all the ingredients together.

Overall this is a difficult, serious piece of music, which although demanding, can be a source of great musical enjoyment, as long as the listener allows it the required attention and time needed to penetrate the external crust. Full of great ideas and superb performances, this is definitely something worthy of serious investigation.
---