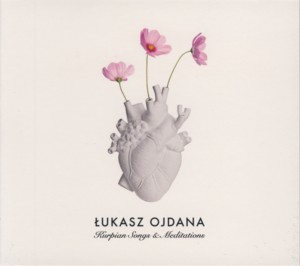 LUKASZ OJDANA ~ KURPIAN SONGS & MEDITATIONS
AUDIO CAVE 2020/003 (Barcode: 5905669566971) ~ POLAND ~ Jazz-World Fusion
Recorded: 2019
Released: 2020
---
This is the debut album as a leader by Polish Jazz pianist / composer Lukasz Ojdana

Find albums by this artist

, recorded in a piano solo setting. The album presents twenty-one short tracks, eleven of which are traditional Kurpian (Kurpie is an ethnic region in Poland) melodies and ten are original compositions by Ojdana, inspired by Kurpian motives. Mariia Ojdana

Find albums by this artist

adds vocals on one track. The album was beautifully recorded at the Studio Tokarnia, engineered by Jan Smoczynski

Find albums by this artist

, offering a spectacular piano ambience worth the attention of sound quality connoisseurs.

Ojdana, best known as a member of the prominent RGG

Find albums by this artist

piano trio, decided to draw his inspiration for this album form the rich Polish Folklore musical heritage. The idiosyncratic Kurpian music fascinated him not only because of its beauty, but also due to the challenge of performing the music on the piano, which is not designed to articulate the quarter tones this traditional music requires. The challenge of the harmonic adaptation the pianist must perform here is truly fascinating and the final result is deeply moving.

Polish Jazz embraces the Fusion of Jazz and traditional Polish Folklore since its early days and some of such projects are true beacons of ingenuity and talent. This album successfully continues this tradition, creating music that naturally amalgamates the seemingly completely different idioms into a new formation, which works out both culturally and aesthetically. The sublime lyricism, melancholy and poetic beauty this music offers is a wonderful example of East European approach to Jazz, which manages to connect with the Cultural roots of the People of the region, transforming the Jazz tradition into an extension of the local Culture, rather than copying its foreign origins.

In spite of its complexity this music is wonderfully, almost heartbreakingly melodic, which creates a deception of "easiness", opening this music to a wide range of listeners. Like all great works of Art, this music can be absorbed on many different levels, between the simplistic, melody based attitude and the highly sophisticated harmonic / structural analysis of the entire concept, leaving the entire range of listeners equally satisfied.

This album offers a great opportunity to get a new perspective on Ojdana´s musical personality. His work with RGG portrays him in many other areas of Jazz, from elegant and ambitious modern Jazz to Avant-Garde explorations, but this album shows him as contemplative, romantic virtuoso, with a cryptic smile and a charmingly bashful manner.

Piano lovers, Polish Jazz followers and all true music enthusiasts should find this alum irresistible; a true gem!
---