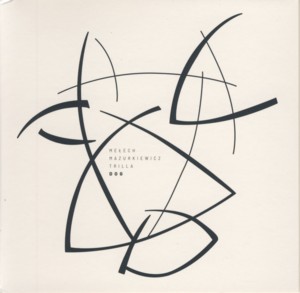 MELECH / MAZURKIEWICZ / TRILLA ~ DOG / HUM / BRAIN
MULTIKULTI MPI 047/48/49 (Barcode: 5903068683282) ~ POLAND ~ Free Jazz / Improvised Music
Recorded: 2016
Released: 2019
---
Released as three separate CDs, this is obviously a unified release documenting live performances by the Improvised Music / Avant-Garde Jazz trio comprising of Polish clarinetist Piotr Melech

Find albums by this artist

, bassist Jacek Mazurkiewicz

Find albums by this artist

and Spanish drummer Vasco Trilla

Find albums by this artist

, recorded in February 2016 at three clubs in different cities in Poland. Guitarist Damian Pielka

Find albums by this artist

takes part on one track. The albums present four / five / two improvised tracks respectively, all obviously credited to the three members of the trio.

Although all the three concerts were recorded by the same trio within one week, the music on the separate CDs differs significantly, presenting completely diverse facets of the trio´s possibilities. Improvised Music is of course created in the spur of the moment and such diversity speaks highly of the abilities of the trio both on the individual and ensemble levels.

Listeners familiar with the European Improvised Music scene are obviously already familiar with the names of these musicians, since they all performed and recorded prolifically in the last decade and are considered as some of the most interesting representatives of the genre.

Since both Melech and Mazurkiewicz employ electronics on regular basis, the music on these albums depicts the polarity between purely acoustic and almost completely electronic music, with everything in between. It seems that the usage of electronics opened up the possibilities, both of the contemporary modern European Jazz and the more adventurous Free Jazz / Avant-Garde scene, which embraced electronics as an integral part of the accessible instrumental palette, a trend growing stronger towards the end of the decade.

The reception of this music is of course highly individual, but I found all thee albums to be highly interesting and absorbing, and the diversity of the music is a strong incentive to try and listen to the whole set in one go. But of course it is also entirely possible to listen to them separately.

Overall this is a great document of the live concerts, which stand on its own in the recorded version and offers challenging, but highly aesthetic listening experience. Highly recommended to all Improvised Music enthusiasts!
---