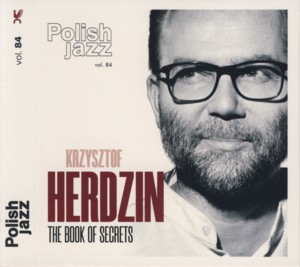 KRZYSZTOF HERDZIN ~ THE BOOK OF SECRETS (POLISH JAZZ VOL.84)
WARNER MUSIC POLAND 190295370787 (Barcode: 190295370787) ~ POLAND ~ Jazz-Pop Fusion
Recorded: 2019
Released: 2019
---
This is an album by veteran Polish Jazz keyboardist / composer Krzysztof Herdzin

Find albums by this artist

recorded in a quartet setting with American saxophonist Rick Margitza

Find albums by this artist

, and Polish rhythm section: bassist Robert Kubiszyn

Find albums by this artist

and drummer Cezary Konrad

Find albums by this artist

and a rather atypical clarinet quintet adding an orchestral dimension to the proceedings. The album presents seven original compositions, all by Herdzin, which according to him: "make up a closed narrative" or "a concept album".

Followers of the Polish music scene are certainly familiar with Herdzin´s gigantic legacy amassed during his professional career since the mid-1990s, which includes twenty (this one included) albums as a leader, dozens albums as a sideman, numerous compositions in diverse genres, including Jazz, Pop and Classical Music, arranging, conducting, producing, playing a myriad instruments and a plethora of other accomplishments – for more details just read his biography on his website or his Polish Wiki entry – all this before reaching his 50th Birthday.

There is no doubt that Herdzin´s biography is extremely impressive, or rather extreme in every sense, almost superhuman. Herdzin is an unusually talented and gifted musician, but personally I have always found his activities somewhat unfocused, lacking certain depth beneath all that glitter. His music and his playing are always "nice", polished, pleasant and nearly "perfect", but at the same time he seams to tease the listener boasting his aptitudes and most of all taking it (or himself) way to seriously.

This album is a perfect example of Herdzin´s music in every sense. It is full of brilliant ideas, beautiful music, melancholy and lyricism, gleaming performances and everything that makes a listener schvitz. And yet once the music is over, the question "what was all that about?" arises almost instantly. And yes, the music is instant gratification incarnate: smooth, easy to swallow and scintillating, like a glass of champagne.

With all the confusion these days about what is Jazz and what isn´t, I´d say that this album offers entertaining instrumental music amalgamating Pop with Jazz and Classical Music ornamentations, which is accessible to a wide audience. As to its lasting value, time will tell.

I wish Herdzin for his upcoming Birthday another fifty years (and a Jewish 20% bonus) of health and productivity, and even if I don´t always appreciate his music I do appreciate his Sisyphean effort. May the Force be with you!
---
Side Note
---
The iconic "Polish Jazz" series of recordings, originally released between 1965 and 1989 by the Polish state owned record company Polskie Nagrania

Find albums on this label

, which used the Muza

Find albums on this label

label as its moniker, consists of seventy six LP albums. It presents the history of Polish Jazz recordings during that period, which includes some of the most important Polish / European modern Jazz milestones and reflects the extraordinary development of Jazz music behind the Iron Curtain. It is one of the most important historic documents of Polish Music and of course Polish Culture in general.

The series had an eminent logo designed by Roslaw Szaybo and the albums were numbered sequentially from Vol.1 to Vol.76 accordingly. The album's artwork was wonderfully stylish and modernist, featuring the brilliant photographs and characteristic design by the legendary Polish Artist Marek Karewicz.

Stylistically the series presented all Jazz genres, from Traditional Jazz to Avant-Garde / Free Jazz, which was extraordinarily liberal considering the cultural censorship imposed by the Socialist Regime. It suffered from some inconsistency, as far as the musical quality and aesthetics were concerned, as well as the internal "politics" of the Polish Jazz scene at the time, but in retrospect it achieved a spectacular overall result, unparalleled as far as consistently documenting a national Jazz scene is concerned.

After the Polskie Nagrania catalogue was bought by Warner Music Poland

Find albums on this label

, the new owner started a reissue process of the Polish Jazz series, carefully remastered, repackaged and including extensive liner notes, which keeps the artwork as close to the original design as possible. So far forty four volumes of the original series were reissued.

In 2016 Warner Music Poland decided to continue the original series by releasing new contemporary Polish Jazz recordings under the same format and even to continue the sequential numbering starting with Vol.77 – a decision I personally consider almost sacrilegious. Some things are simply untouchable, and the "Polish Jazz" series is surely one of those things. If Warner Music Poland wants to produce Jazz albums, which is always more than welcome, they could have started a new series, under a new title, rather than exploiting the reputation of the historic series.

As a result, some artist whose albums are released as part of the new series might be led to expect instant gratification, fame and stardom, just for being an artificial part of a prestigious past, which of course is as bogus as it is sad.
---