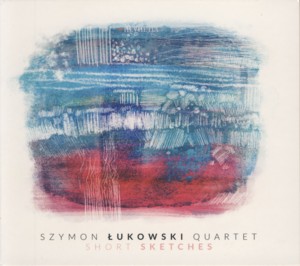 SZYMON LUKOWSKI ~ SHORT SKETCHES
HEVHETIA 0197 (Barcode: 8588005258753) ~ POLAND ~ Jazz
Recorded: 2019
Released: 2020
---
This is the third album by young Polish Jazz saxophonist / composer Szymon Lukowski

Find albums by this artist

, recorded in a quartet setting with keyboardist Adam Lemanczyk

Find albums by this artist

and superb veteran rhythm section comprising of bassist Wojciech Pulcyn

Find albums by this artist

and drummer Sebastian Frankiewicz

Find albums by this artist

. The album presents seven original compositions, four by Lukowski and one each by Lemanczyk, Pulcyn and Stankiewicz. The music was recorded at the excellent Studio Tokarnia and engineered by Jan Smoczynski

Find albums by this artist

, with the usual first class sonic quality.

The music is all within the modern mainstream Jazz convention, but Lukowski´s progress as a composer and instrumentalist is again clearly apparent in comparison to his earlier work. His bass clarinet parts expand the sonic palette considerably and his compositions are more complex and excellently arranged for the quartet, which results in these performances being highly absorbing from start to finish.

The strength of the quartet as a tight musical unit also adds to the success of this material. Lemanczyk is equally effective on acoustic piano and electric keyboards, playing some truly mesmerizing parts. Pulcyn, as always, keeps everything in check and his highly melodic bass lines offer a steady ground for the music to lean on. Frankiewicz adds a highly percussive and dynamic drum parts on the up-tempo numbers and delicate ornamentation on the ballads, like a professional he truly is.

Overall this is a truly fine piece of Jazz music, diverse, interesting and aesthetically satisfying, which all Jazz lovers should find worth listening to. As usual it perfectly reflects the high level of original music being created in Poland these days, which is as good, if not better, as Jazz created all over Europe these days, without any inferiority complex. Well done indeed!
---