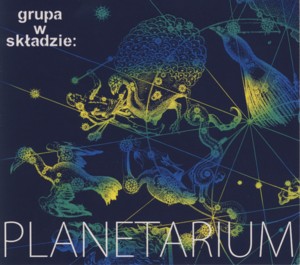 GRUPA W SKLADZIE ~ PLANETARIUM
MILO 304 ~ POLAND ~ Jazz-Ambient Fusion
Recorded: 2018
Released: 2019
---
This is an album by the legendary 1970s Polish Avant-Garde ensemble Grupa W Skladzie

Find albums by this artist

, which was reactivated a few years ago and performs from time to time in different lineup configurations. This live recording was made by a trio lineup of the ensemble, which includes the founding member multi-instrumentalist Milo Kurtis

Find albums by this artist

, veteran Jazz clarinetist Jerzy Mazzoll

Find albums by this artist

and a representative of the young generation keyboardist Milosz Oleniecki

Find albums by this artist

. The album presents six original compositions, one composed by Kurtis and five composed collectively by the ensemble members.

The music is a meditative journey, which amalgamates elements of Jazz, World Music and Ambient explorations. It requires patience and open-mindedness to be wholly appreciated, but once the listener fully submits to the flow of the music, the experience is truly magical.

The personal performances are all excellent, especially the superb clarinet improvisations by Mazzoll, but the music is created by all three musicians together and its magic is mostly a result of their close cooperation.

Overall this is a beautiful album of meditative / improvised music, which enchants the listen by its calmness and tranquility, but also offers rich layers of Jazzy improvisations. Twenty years ago this might have been classified as New Age Music, but the hype of New Age is long gone, and great music stays forever.
---