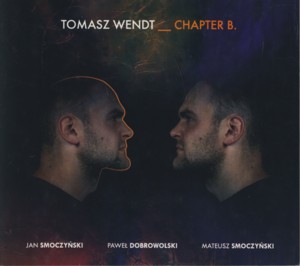 TOMASZ WENDT ~ CHAPTER B.
SJ 047 (Barcode: 5912596066832) ~ POLAND ~ Jazz
Recorded: 2019
Released: 2019
---
This is the second album by Polish Jazz saxophonist / composer Tomasz Wendt

Find albums by this artist

recorded in a quartet setting with excellent partners: violinist Mateusz Smoczynski

Find albums by this artist

, keyboardist Jan Smoczynski

Find albums by this artist

and drummer Pawel Dobrowolski

Find albums by this artist

. The album presents eight original compositions, all by Wendt. The music was recorded at the superb Studio Tokarnia and was engineered by Jan Smoczynski, with the usual spectacular sound quality.

The music is modern European Jazz at its best, melody based but allowing for extensive improvisations and odd meters, creating diverse sonic vistas by taking advantage of the unusual instrumental lineup. The melodies are all well structured and coherent, full of romanticism and melancholy, and yet lively and exciting, with often complex rhythm changes.

The instrumental work by all the participants is absolutely amazing. Wendt matured and achieved a wonderful tonality over time, Mateusz Smoczynski is absolutely amazing as always and his soloing on this album is especially welcome as it has been a while since he recorded in a pure Jazz environment. Jan Smoczynski, the older brother, not only plays some great keyboard parts but also provides the bass lines. Dobrowolski, who needs to take care of all the rhythmic duties, is also brilliant, which is hardly surprising.

Overall this album simply explodes with great musicianship and excellent compositions, creating a most enjoyable listening experience, in spite of its non-trivial instrumentation and rhythmic complexity. It should be accessible to the majority of true Jazz connoisseurs and will also raise a few brows, as it offers a very novel instrumentation and highly unusual sound. Well done indeed!
---