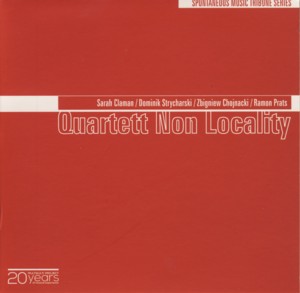 CLAMAN / STRYCHARSKI / CHOJNACKI / PRATS ~ QUARTETT NON LOCALITY
MULTIKULTI MPSMT 015 (Barcode: 5903068683336) ~ SPAIN ~ Free Jazz / Improvised Music
Recorded: 2018
Released: 2019
---
This is an album by international Improvising Music ensemble Quartett Non Locality

Find albums by this artist

consisting of New Zealand (resident in Barcelona) violinist Sarah Claman

Find albums by this artist

, Polish flautist Dominik Strycharski

Find albums by this artist

and accordionist Zbigniew Chojnacki

Find albums by this artist

and Catalan drummer Ramon Prats

Find albums by this artist

. The album presents seven improvised pieces not attributed to specific composers.

The album is a part of the "Spontaneous Music Tribune Series" dedicated to Iberian Free Improvised Music, curated by my friend and colleague Maciej Lewenstein

Find albums by this artist

, who lives in Barcelona since many years and who is a passionate music lover in parallel to his scientific career.

The music is a typical Improvised Music experience, which sadly suffers from the characteristic recorded Improvised Music malady, which haunts most albums of the genre. This music might have been highly interesting for the musicians to play, and perhaps might have been a fascinating live experience, but is much less interesting to listen to at home from a record and is unable, at least to me, to recreate that potential excitement, closed in a recorded time capsule. Sadly since making a recording and releasing albums have become accessible and inexpensive in the last two decades, there is a deluge of Improvised Music albums on the market, which only under rare circumstances make a lasting statement and deserve repeated listening.

Strycharski and Chojnacki are both formidable musicians and have already created numerous excellent recordings, but sadly on this album one can hardly find significant evidence of their individual abilities. Although I painstakingly listened to this music, enjoying some fragments, I don´t envisage myself doing it again.

Overall this is perhaps of interest to the hardened Improvised Music enthusiasts, who are deeply enthralled by the intricacies of the genre, but for listeners beyond that intimate circle it is most probably impenetrable.
---