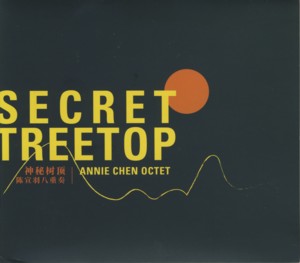 ANNIE CHEN ~ SECRET TREETOP
NOT ON LABEL (Barcode: 9787799319759) ~ CHINA ~ Jazz
Recorded: 2017
Released: 2019
---
This is the second album by Chinese (resident in US) Jazz vocalist / songwriter Annie Chen

Find albums by this artist

recorded with her octet, which includes Polish (resident in US) guitarist Rafal Sarnecki

Find albums by this artist

, who was in charge of the arrangements, except in one case. The album presents nine tracks, seven of which are original compositions by Chen featuring her lyrics (in English), except for one tune which features wordless vocalese, and two are arrangements of folk songs with lyrics in Chinese.

The music is quite complex, richly orchestrated and excellently performed by the octet. Surprisingly it shows relatively little influence of Far Eastern motifs, even in the folklore based tunes, and the Chinese vocals are the only real connection with Chen´s roots.

Chen offers an original approach to vocals, mixing effectively lyrics and vocalese, and as a result turns her voice into one of the instruments of the octet. Her approach to vocals, and in fact the entire aesthetics of the album are unexpectedly non-American, much closer to what one might expect from European Jazz, which is probably due mostly to Sarnecki´s approach to the arrangements and Chen´s open-mindedness.

Overall this is an excellent album, full of unusual, highly intelligent music, superb vocals and instrumental performances by all the members of the octet, and most importantly a breath of fresh air in the dull mainstream vocal Jazz produced usually in the US. This gem is definitely worth investigating!
---