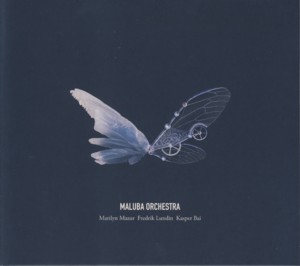 MALUBA ORCHESTRA ~ MALUBA ORCHESTRA
STUNT 19042 (Barcode: 663993190426) ~ DENMARK ~ Jazz
Recorded: 2018
Released: 2019
---
This is the debut album by Danish thirteen-piece Jazz orchestra called Maluba Orchestra

Find albums by this artist

, which name combines the first two letters of the three co-leaders: percussionist / composer Marilyn Mazur

Find albums by this artist

, saxophonist / composer Fredrik Lundin

Find albums by this artist

and guitarist Kasper Bai

Find albums by this artist

. In its ranks we also find the excellent Polish (resident in Denmark) trumpeter Tomasz Dabrowski

Find albums by this artist

. The album presents ten original compositions, five by Mazur, three by Lundin and two by Bai.

The music is an absolute brilliant display of what European Orchestral Jazz is all about. It combines perfectly the entire kaleidoscope of Jazz sub-genres, from Swing to Free, and offers complex but coherent compositions, superb arrangements and of course sublime execution by the orchestra members. There is plenty of space for individual soloing, but the full power of the orchestra is most impressive in the collective performances.

Each and every one of the composition is a true gem, and the entire album offers a diverse, stylistically and more importantly aesthetically perfect equilibrium of sensitivity and good taste, which characterizes European Jazz at its best. The final piece on the album is an ode to Johann Sebastian Bach

Find albums by this artist

, based on his New Year chorale (BWV 288), which is a classic example of Jazz-Classical Fusion and which makes only subtle references to the actual source and leaves the rest to an intelligent listener.

The many followers of Dabrowski have here a wonderful opportunity to hear many of his excellent contributions here, often more "conventional" than on his own recordings but by no means less impressive, as usual representing Polish Jazz proudly.

Overall this is a beautiful orchestral Jazz album, which has no dull moments and offers a glimpse into the Danish Jazz scene, which in the last decade enjoys a renaissance with many excellent young musicians playing alongside their veteran colleagues. Absolutely not to be missed!
---