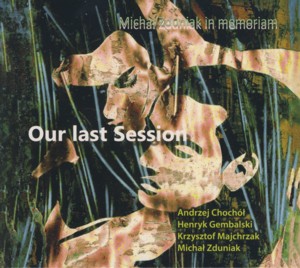 CHOCHOL / GEMBALSKI / MAJCHRZAK / ZDUNIAK ~ OUR LAST SESSION
NOT ON LABEL ~ POLAND ~ Avant-Garde Jazz-Rock Fusion
Recorded: 2008
Released: 2019
---
This is an archival release of an improvised recording session by four Polish Jazz musicians: guitarist Andrzej Chochol

Find albums by this artist

, violinist Henryk Gembalski

Find albums by this artist

, bassist Krzysztof Majchrzak

Find albums by this artist

and drummer Michal Zduniak

Find albums by this artist

, all members of groups like Labirynt

Find albums by this artist

, Zdubop

Find albums by this artist

(or Zdu-bop

Find albums by this artist

) and other ensembles, active usually on the alternative Polish Jazz scene far from the fame and glory of the mainstream but certainly not less significant. The session was recorded at the studio owned by Zduniak, who was at the time already gravely ill and sadly died a year to the day since the session date. The album presents seven tracks, six of which are spontaneous improvisations and one was composed by Majchrzak.

The music is an incredibly dense barrage of group improvisation by these four veteran musicians, creating a wall of sound effect, which still enables the individual instruments to be heard clearly. The individual parts vary in their intensity and dynamics, bringing each of the musicians up front, but there are no straightforward solo parts as such.

Although this music is all about group improvisation, the individual contributions are all first rate. Gembalski is sadly one of the most underrated Polish Jazz violinists and his parts on this album are nothing short of spectacular. Majchrzak is a brilliant bass guitarist, also sadly little known beyond a close list of friends and followers. Perhaps the fact that he lives in Paris since many years took him out of the public eye, but he is a world class player and has little competition on the local Polish scene. Chochol contributes some hair-rising electric guitar soli, and he also deserves a much wider recognition. Zduniak contributed superb drumming parts to many iconic Polish Jazz albums and his untimely death was a blow to the scene.

It is truly great to have this music available, as it not only deserves to be heard, but is also an important historic record of the lesser known components of the Polish Jazz scene, which should be remembered and documented.

Overall this is a fascinating piece of music with historic significance, which is worth looking for and listening to, and which might surprise many listeners with its richness and uniqueness.
---