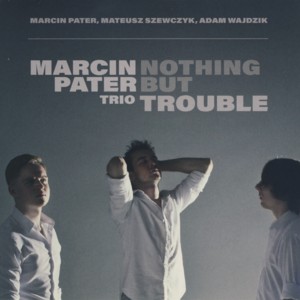 MARCIN PATER ~ NOTHING BUT TROUBLE
EMME 1917 (Barcode: 850869006503) ~ POLAND ~ Jazz
Recorded: 2019
Released: 2019
---
This is the debut album by young Polish Jazz vibraphonist / composer Marcin Pater

Find albums by this artist

recorded in a trio format with bassist Mateusz Szewczyk

Find albums by this artist

and drummer Adam Wajdzik

Find albums by this artist

. Guitarist Jakub Mizeracki

Find albums by this artist

guests on three tracks. The album presents nine original compositions, eight of which were composed by Pater and one co-composed by him with other musician. The album was released by the Italian label Emme

Find albums on this label

Records, as the result of the trio winning the first prize at the 2018 Jazz Juniors competition in Krakow.

The music is a wonderful amalgam of cross-genre explorations, moving between modern mainstream Jazz and Jazz-Rock Fusion, based on beautifully melodic themes. The level of all the compositions is truly excellent and very surprising considering the young age of the composer. The three tracks featuring Mizeracki are understandably much more Fusion oriented, due to the dominating sound of the electric guitar, whereas the trio tracks are much more airy and atmospheric.

Pater emerges as a surprising vibraphone Master, playing with remarkable confidence and technical proficiency. Every strike of his mallets is precise and superbly expressive, using sustain and delicate variations of the pressure to produce a wonderful palette of sounds. It is truly heartwarming to see the much neglected instrument finally being treated with respect and virtuosity it deserves.

The rest of the crew is also excellent of course. Szewczyk and Wajdzik support the leader with swinging fluidity and Mizeracki adds another layer to the music, stirring things up with his edgy approach, but also remarkable flexibility. Altogether the trio / quartet present a clockwork precision and a velvety sound, which work like a dream.

The album brings on some fond nostalgic memories or early Gary Burton

Find albums by this artist

quartet featuring Larry Coryell

Find albums by this artist

(or the birth of Fusion), which are still some of best examples of vibraphone virtuosity not related to Bebop.

Overall a very impressive debut album, perhaps not very innovative musically, but very refreshing and focusing on a neglected and much loved instrument, which definitely put this album in the short list of best Polish Jazz debuts for 2019. Well done and definitely worth investigating!
---