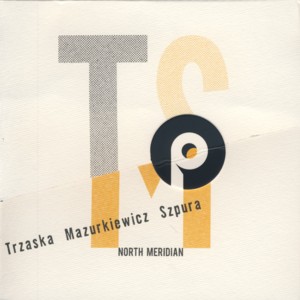 TRZASKA / MAZURKIEWICZ / SZPURA ~ NORTH MERIDIAN
PLANK-TONE 1 ~ POLAND ~ Free Jazz / Improvised Music
Recorded: 2018
Released: 2019
---
This is an album by a trio of Polish Free Jazz / Improvised Music musicians: veteran saxophonist / clarinetist Mikolaj Trzaska

Find albums by this artist

and two younger but already established representatives of the genre, bassist Jacek Mazurkiewicz

Find albums by this artist

and drummer Pawel Szpura

Find albums by this artist

. The album presents six original compositions, all co-composed by the members of the trio.

The music is everything the listeners familiar with the Polish Improvised Music scene would expect: an excellent example of a trialogue between highly expressive and imaginative players, which demonstrates a high level of mutual respect and telepathic exchange of ideas, which makes the music sound as if it was carefully researched, in spite of the fact that it is completely spontaneous. There is a wonderful balance of responsibilities and role sharing between the musicians and ability to play together without overshadowing each other´s contributions.

The music is excellently recorded, with perfectly isolated sound of each of the instruments, which enables the listener to hear absolutely every delicate nuance, even when Mazurkiewicz employs heavy electronic sounds in addition to the acoustic instruments.

The music varies in intensity and atmosphere, moving between delicate and soft passages and "wall of sound" vistas, being perfectly cohesive and focused at all times. In spite of the fact that this music offers no straightforward melody contents as such, it has a melodic streak of sorts, making the music accessible to a relatively wide circle of listeners, not necessarily originating only from within the Improvised Music circle.

Trzaska seems to be in a meditative mood on this album and his performances are tamer and more relaxed than usual, which is a real treat. He is apparently still developing his palette and able to surprise even his most devoted followers, like yours truly. But Mazurkiewicz and Szpura both contribute excellently as well, perhaps better than at any earlier recording.

Overall this is a beautiful piece of Improvised Music, which manages to be transformed into an experience worth listening to repeatedly, something that happens very rarely within the genre.

This album is the first release on the new Plank-Tone

Find albums on this label

Records label founded by Mazurkiewicz, and of course greetings and salutations are in order!
---