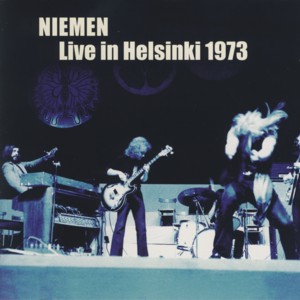 NIEMEN ~ LIVE IN HELSINKI 1973
GREEN TREE 169 (Barcode: 4015689001695) ~ POLAND ~ Jazz-Rock Fusion
Recorded: 1972
Released: 2018
---
This is an archival album, which presents live recordings by the greatest Polish Rock / Fusion musician of all times, vocalist / keyboardist / songwriter Czeslaw Niemen

Find albums by this artist

.

The first three tracks on the album were recorded during a concert at the Helsingin Juhlaviikot (Helsinki Festival), Finland captured on August 28, 1972 (not on the 26th as the CD info states) and recorded by Finnish National Broadcasting Company (YLE) and later broadcasted on Finnish Radio and TV. Polish TV years later broadcasted the concert giving the wrong recording year, which is why the wrong date is associated with these tracks here and on YouTube, where the TV recording can be found. Another Polish Rock group, Klan

Find albums by this artist

, was also invited to that festival and their performance captured on the same day by the YLE can be found on the "Live Finland 1972

Find albums with this title

" album released by the great archival record label GAD

Find albums on this label

Records – this time completely legally and with restored sound quality.

The two other tracks were recorded at the "Jazz Now!" 1972 Olympic Games concert in Munich, Germany, captured on August 17, 1972 and recorded by the German TV, which can also be found on YouTube. German Jazz critic / author / activist and my friend and Mentor Joachim Berendt

Find albums by this artist

was the Artistic Director of the entire "Jazz Now" series (August 17 to 20, 1972) and his love and knowledge of the Polish scene was the reason why Niemen was the only Artist from behind the Iron Curtain invited to take part in this highly prestigious event..

All the tracks feature the core of what was to become the most famous Polish Fusion band SBB

Find albums by this artist

: bassist / keyboardist Jozef Skrzek

Find albums by this artist

, guitarists Apostolis Anthimos

Find albums by this artist

and drummer Jerzy Piotrowski

Find albums by this artist

, accompanying Niemen´s vocals.

The music is absolutely stunning, as expected, and even the dubious sound quality of these recordings is not able to spoil the unadulterated pleasure this music is still able to generate almost fifty years after it was initially performed. Niemen was always light years ahead of his contemporaries on both sides of the Iron Curtain, and the fact that he remains still relatively anonymous beyond Eastern Europe, despite his revolutionary contributions and pioneering spirit, is a crying shame.

It is a great pity that the entire legacy of Niemen´s recordings made outside of Poland and many of his live recordings remain unreleased and are available only unofficially, like all the Green Tree

Find albums on this label

titles. His third Box Set, which was to include all these treasures, remains sadly an unfulfilled dream.

For all Polish Rock / Fusion enthusiasts as well as for the numerous Niemen fans this is an essential piece of his discography, which is definitely worth having, despite its technical flaws.
---