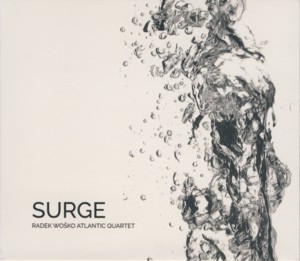 RADEK WOSKO / ATLANTIC QUARTET ~ SURGE
MULTIKULTI MPJ 025 (Barcode: 5903068683329) ~ POLAND ~ Jazz
Recorded: 2019
Released: 2019
---
This is the second album by Polish Jazz drummer / composer Radek Wosko

Find albums by this artist

and his Atlantic Quartet

Find albums by this artist

, which includes Norwegian (resident in Copenhagen) guitarist Stian Swensson

Find albums by this artist

(who replaced Israeli Gilad Hekselman

Find albums by this artist

who played on the debut), Danish pianist Soren Gemmer

Find albums by this artist

and Polish bassist Mariusz Prasniewski

Find albums by this artist

. The album presents eleven original compositions, eight composed by Wosko and three co-composed by all four members of the quartet.

The music, although sonically continuing the guitar dominated Fusion ambience of the debut, is way more open and offers significant proximity to European Jazz elements, including the Nordic loftiness and Polish lyricism, two of the most powerful ingredients of modern European Jazz. It is great to find Wosko finally approaching his "natural" elements in his music, which combined with his maturity and experience accumulated over time and his excellent compositions come all together on this album.

The playing is also excellent all the way, with the two Scandinavian melody weavers leading the way with confidence and finesse. Swensson is a wonderful surprise (sadly I failed to hear his debut album so far) and steps easily into Hekselman´s shoes with complete confidence. His playing is the most significant color of the music, but he respectfully leaves space for his cohorts to have their say. He can be firm and decisive but also delicate and considerate, showing great sensitivity. Gemmer is a superbly lyrical player and his sense of melody and atmospheric vistas are simply hair-rising. Prasniewski offers both a solid bottom filling to the quartet´s sound and a significant rhythmic drive. Wosko offers inventive and supportive drumming parts, especially significant during the open / almost free compositions, but does not dominate the music, staying respectfully in-line with the other quartet members.

The album is a wonderful example of the ideal balance between melody and order and freedom and open space, which is always so difficult to achieve without pulling the music one way or another; one could almost say that it is case study of such vague and evasive musical phenomenon.

Overall this is a beautiful and superbly executed album, for me definitely the best recording by Wosko so far and a gate of hope for his future endeavors. This quartet is a formidable team, which exemplifies the best there is in contemporary, still young but already mature European Jazz. Well done!
---