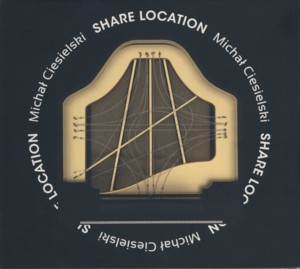 MICHAL CIESIELSKI ~ SHARE LOCATION
SOLITON 986 (Barcode: 5901571099866) ~ POLAND ~ Jazz
Recorded: 2019
Released: 2019
---
This is the second album under his name by Polish Jazz pianist / composer Michal Ciesielski

Find albums by this artist

and also his second solo piano outing, same as his debut recorded in 2012. The album presents nine original compositions, all by Ciesielski.

The music offers a melodic journey inspired by the places in the composer´s life and telling an autobiographical story about his road to maturity. The youthful and full of enthusiasm compositions present on his debut album are replaced by a much more serious and insightful explorations. Although still beautifully melodic, the music is more complex and requires attentive listening in order to be fully appreciated. Polish folkloristic motifs are also strongly present in the music, which seem to be an organic part of many Polish Jazz compositions one way or another.

Same can be said about the piano playing, which is much more concentrated and even minimalist at times, often closer to Classical Music than Jazz. Obviously Ciesielski does not need to prove himself as a talented pianist any more after playing and recording extensively over the years, and this recording enables him to concentrate on his own Artistic expression at its most intimate naked truth.

Overall this is a splendid collection of wonderful compositions, which offer highly melodic themes and lyrical atmospheric vistas, beautifully performed by the composer. The entire album is coherently put together and presents an opportunity to get familiar with the work of one of Poland´s promising young composers, who is making a constant progress on his musical path. It is best to leave the music to speak for itself.
---