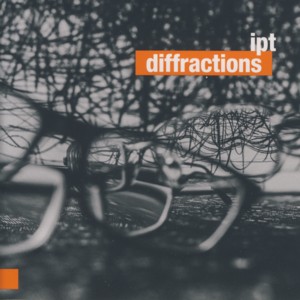 IPT ~ DIFFRACTIONS
FOR TUNE 0143 (Barcode: 5906395808571) ~ POLAND ~ Avant-Garde Jazz-Classical Fusion
Recorded: 2018
Released: 2019
---
This is the debut album by Polish Jazz trio called IPT

Find albums by this artist

(Improvising Piano Trio) consisting of pianist Szymon Wojcinski

Find albums by this artist

, violinist Jakub Bandur

Find albums by this artist

and cellist Jakub Gucik.

Find albums by this artist

The album, recorded live, presents seven original compositions, all co-composed by the trio members.

The music offers an innovative approach to the Classical Music Piano Trio format transformed into the Improvised Music idiom, and quite naturally offers an amalgam of the two worlds. Obviously pre-composed, the music offers melodic themes, which are then opened up for improvisation, but overall the Classical Music aura is preserved – my immediate association was of an elegantly dressed anarchist.

As it usually happens with Improvised Music, its primary goal is to be performed and listened to live. Recorded Improvised Music rarely transfers into a lasting artistic statement, which can be repeatedly listened to later on, with a few exceptions of course. The innovative approach of this album and the bridge it creates between Classical Music environment and the free spirited Avant-Garde elements of Improvised Music is able to create such a lasting impression, at least for me, as I enjoyed this music without being present in the room while it was created.

All three musicians display remarkable technical abilities on their respective instruments, managing to cross the "expected" barriers time after time. Combined with the spirit of unity the trio manages to achieve, the resulting music is a true rollercoaster of energies and emotions, offering a fascinating listening experience. The decision to involve both the acoustic and the electric piano adds an additional layer of sound and versatility.

Overall this is definitely a most interesting debut album and probably one of the most worthwhile Improvising Music recordings released this year (2019) in Poland, which has a solid and well developed Improvising Music scene and a faithful public following. Kudos for the originality!
---