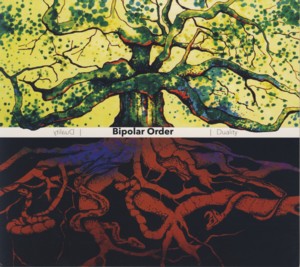 BIPOLAR ORDER ~ DUALITY
ALLEGRO 039 (Barcode: 5901157049391) ~ POLAND ~ Jazz-Rock Fusion
Recorded: 2019
Released: 2019
---
This is the debut album by Polish Jazz quartet Bipolar Order

Find albums by this artist

, which comprises of saxophonist Mateusz Chorazewicz

Find albums by this artist

, guitarist Jakub Zolubak

Find albums by this artist

, bassist Lukasz Ostrowski-Kunert

Find albums by this artist

and drummer Maciej Wojcieszuk

Find albums by this artist

. The album presents seven original compositions, four by Chorazewicz and three by Zolubak.

The music floats between mainstream Jazz and Jazz-Rock Fusion, with solid melodic compositions, mostly melancholic and slowly developing, with some Folkloristic influences and even some Free Form moments. There is a significant difference between the more Jazz oriented compositions by Chorazewicz and the Fusion oriented compositions by Zolubak, which is also evident in the continuous conflict between saxophone parts / improvisations and those by the guitar, with the saxophone clinging to Jazz tradition and the guitar pushing towards Fusion. The bass guitar also influences the overall sound, adding to the Fusion feel, which eventually wins the competition. But to be fair, the music is well structured and often way more complex than the "usual" Fusion outings, and as such definitely worth listening to.

It´s a pity that the guitarist is overwhelmingly influenced by Fusion heroes, rather than searching for a more individual approach to the instrument, but the future is surely still ahead of him. The saxophone parts are all quite original and beyond reproach, which saves the day. Perhaps the quartet needs to find a stylistic compromise, which will unify the music and focus the musical direction of the future recordings, perhaps something in the direction of the title track, which is by far the most interesting on the album.

Having said all that, the album is still quite impressive considering itís a debut and taking into account the excellent compositions it presents. It should be of interest to many listeners, especially those who still have not lost hope in the possibility that Fusion can produce interesting music today. All in all well done!
---