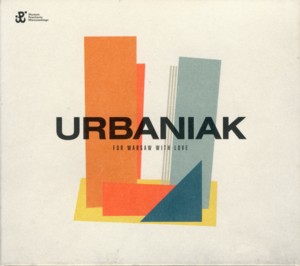 MICHAL URBANIAK ~ FOR WARSAW WITH LOVE
AGORA 5903111493684 (Barcode: 5903111493684) ~ POLAND ~ Jazz-Rap Fusion
Recorded: 2019
Released: 2019
---
"Jazz is (*) the music of the oppressed black working class in capitalist America". This is the slogan that enabled Polish Jazz musicians to play and flourish behind the iron curtain, when the above definition was softened following Stalin´s death (1953) from its original form, which also included "the product of the degeneration presented as" in the place of the asterisk above. Expression of solidarity by the Polish working class with the "black working class in capitalist America" was allowed by playing Jazz. Of course Polish Jazz musicians – including our hero saxophonist / violinist Michal Urbaniak

Find albums by this artist

– were never a part of the working class, but that was the beauty of the whole thing. Polish intelligentsia and the artistic bohemian class in particular, which included filmmakers, Jazz musicians, actors, poets and other undesirable riffraff, were absolute Masters in fooling the system and its censorship apparatus into believing in their legitimacy as representatives of the working class and their conformity with the official Socialist Party policies.

Urbaniak and a few of Polish Jazz pioneers visited the US in 1962 and he fell head over heels in love with the "original" American Jazz. From that moment on his primary life´s desire was to move to NY and become part of the local scene, which he consistently pursued and eventually achieved in 1973, together with his wife at the time, vocalist Urszula Dudziak

Find albums by this artist

. His NY residency was crowned by a recording contract with Columbia and release of several brilliant and groundbreaking albums and a brief stint with the legendary Miles Davis

Find albums by this artist

. His talent and intensive work schedule earned him many friends among the American (and not only) musicians, which explains how he managed to get on this album a string of stars like drummer Lenny White

Find albums by this artist

, bassist Marcus Miller

Find albums by this artist

, pianist Herbie Hancock

Find albums by this artist

, guitarist David Gilmore

Find albums by this artist

, rapper Walter West

Find albums by this artist

and others.

Eventually Urbaniak, like many other Polish Jazz musicians who tried their luck in the US, returned to Poland, which in the meantime managed to free itself from the shackles of the Socialist regime, and resumed his activity on the local scene, retaining of course his NY ties. His keen senses and sharp ears enabled him to select some of the best Polish Jazz musicians, mostly members of the young generation, and invite them to take part in this project, like pianist Michal Tokaj

Find albums by this artist

, keyboardists Jan Smoczynski

Find albums by this artist

, Michal Wroblewski

Find albums by this artist

and Marek Pedziwiatr

Find albums by this artist

and others.

Formally this album is a tribute to the city of Warsaw, commemorating the 75th Anniversary of the tragic Warsaw Uprising against the Nazi German occupation and the album was issued by the Warsaw Uprising Museum. To be honest I completely fail to see any connection and for me this is not a tribute to Warsaw but a tribute to NY and contemporary American music scene. It offers a mixture of Rap, Hip-Hop, Groove, Blues and a bit of Jazz, with a distinct Afro-American feel, which to people familiar with Urbaniak´s current activity is hardly surprising. Most of the music is attributed to Urbaniak, but there are also two classic Jazz standards dressed up to fit with the rest of the album. And yes, it offers a lot of superb playing on the way.

The album proves that Urbaniak wishes to stay relevant and up to date with contemporary trends, which is certainly more than other musicians of his group age are doing. It has a strong Jazz tinge, but certainly is not meant as a Jazz album per se; and why not? Urbaniak does not have to justify his musical choices to anybody, and his extensive legacy proves that he paid his dues and can do whatever he wants to do. The "critics", who dismissed this album outright, fail to see the point here – it is up to the musician to play what see thinks is right and it is up to the listener to decide if he wishes to listen / buy the album. Urbaniak is simply well beyond scrutiny by self proclaimed "critics" – he has been around for long enough to ignore this bullshit.

It was a pleasure to meet Michal again a couple of month ago at the after party of the Singer Festival, where he gave me an autographed copy of this album. Nigel Kennedy

Find albums by this artist

, the star of the final concert and an accomplished musician by all standards, looked at Michal with love and admiration deserved by an older Master… certainly good enough for me. Even if this music is not exactly my glass of vodka, if this is what he wants to play, who am I to tell him otherwise? Respect!
---