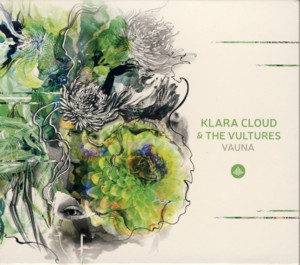 KLARA CLOUD & THE VULTURES ~ VAUNA
CHALLENGE 73476 (Barcode: 608917347623) ~ POLAND ~ Jazz-World Fusion
Recorded: 2017
Released: 2019
---
This is the debut album by young Polish Jazz ensemble Klara Cloud & The Vultures

Find albums by this artist

which comprises of vocalist Sylwia Klara Zasempa

Find albums by this artist

, violinist Bartosz Dworak

Find albums by this artist

, pianist Mateusz Gaweda

Find albums by this artist

, bassist Adam Tadel

Find albums by this artist

and drummers Piotr Budniak

Find albums by this artist

and Sebastian Kuchczynski

Find albums by this artist

. Legendary guitarist Apostolis Anthimos

Find albums by this artist

guests on one track. The album presents ten tracks, eight of which are original compositions mostly by Zasempa and some created with the help of the entire ensemble (the two instrumental tracks) and finally two are traditional. Most of the lyrics are also by Zasempa. The subject matter of the album refers to Nature, wildlife and harmonious coexistence. The music was recorded at the excellent Monochrom Studio and engineered by Ignacy Gruszecki

Find albums by this artist

, with the usual superb sound quality.

The music offers a fascinating concept, combing Jazz-World Music Fusion with Free Jazz, which is quite striking. Although Polish Jazz often sources Slavic music, typical Polish melancholy and Polish Folklore, amalgamating it usually with original mainstream Jazz, but rather rarely so with more adventurous forms, which makes this music immediately outstanding. This does not mean that the music loses contact with melody per se, but the improvisations offer a wide range of freedom, both rhythmically and harmonically, which are not usually found within the Jazz-World Fusion idiom.

Dworak and Gaweda, who are amongst the most celebrated young Polish Jazz players, have plenty of opportunity to show their chops on this album, standing up to the expectations in full. The reinforced rhythm section, with the polyrhythmic double drums (in stereo) and solid bass pulsations, pushes the music steadily forward and serves as an anchor for the listener to keep his bearings. The guitar solo by Anthimos on the final track is simply divine.

Of course the vocals are the epicenter of this music and Zasempa stands up to the challenge with flying colors. She keeps to the basics, avoiding unnecessary theatrics and meanderings, and invests directly in the delivery of the lyrics, often improvising in the process. She does not use vocalese extensively, preferring to "play with the words" rather than with the sounds, but when she does, it works perfectly and hopefully will be used more in future projects. Zasempa is a "total" musician, being obviously the leader, the composer, the lyricist and the main soloist – Woman power incarnate.

Overall this is a beautiful piece of music, excellently put together and executed, original, ambitious and intelligent. Definitely one of the most interesting Polish Jazz releases of 2019. It is also the fifth album by young Polish Jazz musicians to be released on the prestigious Dutch Challenge label, which proves that this music is being recognized beyond the local market and steadily captures the position it truly deserves. Well done Lady and Gentlemen!
---