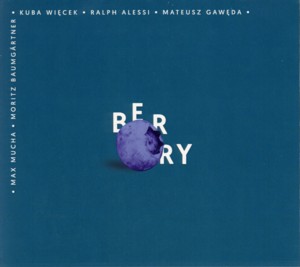 WIECEK & GAWEDA QUINTET ~ BERRY
AUDIO CAVE 2019/011 (Barcode: 5905669566841) ~ POLAND ~ Jazz
Recorded: 2016
Released: 2019
---
This is the debut album by a quintet co-led by two of the most noticeable upcoming Polish Jazz musicians in the last decade: saxophonist / composer Kuba Wiecek

Find albums by this artist

and pianist / composer Mateusz Gaweda

Find albums by this artist

. The quintet also includes veteran American trumpeter Ralph Alessi

Find albums by this artist

, Polish bassist Max Mucha

Find albums by this artist

and German drummer Moritz Baumgartner

Find albums by this artist

. The album presents nine original compositions, all co-credited to Wiecek & Gaweda.

The music is typical American Post-bop based on sketchy melodic themes and open to extensive improvisations by the quintet members. The outcome of such approach is totally dependent on the musical chemistry that develops between the musicians and their ability to offer group improvisation, which is more important than the individual improvisations each of the participants is capable of.

This quintet is a collection of very strong musical personalities, each and every one of which is an accomplished performer, leader and composer on his own right. The question arises of course if this specific grouping of musicians works well in total, which as far as I am concerned remains undetermined. There is certainly a lack of balance as far as soloing is concerned, with Alessi, who in my opinion is definitely not the most interesting soloist herein, playing most of the soli whereas Wiecek is almost completely silent except for the unisono intros, outros and a few brief solos. Gaweda and the rhythm section manage to hold their ground all in all and the piano trio parts are the highlight of this album.

There is also the basic stylistic dissonance that hinders the quintet´s unity, with Alessi pushing the music into the Bebop schematics whereas the four young Europeans are trying to break away into the freedom zone, time after time.

Having said all that, this is still a very interesting album, which offers some great playing and joyful, spirited music, which is very enjoyable to listen to. The four young Europeans have the whole life ahead of them and this album proves their incredible talents, which surely will bring us all a lot of superb music in the future.
---