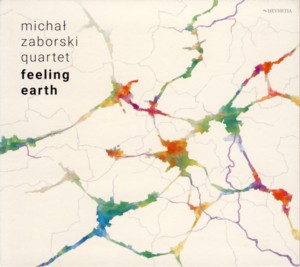 MICHAL ZABORSKI ~ FEELING EARTH
HEVHETIA 0189 (Barcode: 8588005258623) ~ POLAND ~ Jazz-Classical Fusion
Recorded: 2017
Released: 2019
---
This is the debut album as a leader by the Polish violist Michal Zaborski

Find albums by this artist

, mostly recognized as a member of the Atom String Quartet

Find albums by this artist

, recorded with a quartet, which also includes pianist Nikola Kolodziejczyk

Find albums by this artist

, bassist Maciej Szczycinski

Find albums by this artist

and drummer Michal Bryndal

Find albums by this artist

. The album presents seven original compositions, all by Zaborski and the music was recorded at the excellent Studio Tokarnia and engineered by Jan Smoczynski

Find albums by this artist

.

With the viola in the lead, the quartet produces a noticeably "different" sound than one expects from a Jazz recording, and indeed this music, although Jazz oriented, includes also strongly noticeable additional influences, such as Classical and Folklore music, which are immediately apparent from the onset. The compositions are all deeply melancholic and mostly low key, emphasizing a strong melodic presence, with the themes stated by the viola at the beginning of each piece and than gently carried on by the fragile piano and viola improvised parts. The piano is a tad too busy at times, but not extravagantly so. The rhythm section keeps things to bare minimum, with the bass pulsating in the background and playing a few beautifully melodic soli and the drums steady and barely audible at times.

And yet the music has an irresistible charm to it, a magical flow that keeps the listener mesmerized for the duration of the album, taking him from one piece to the next as if hypnotized. In spite of the minimalist outcome produced by the musicians, the music does not seem to be missing anything and is perfectly rounded and whole. The music is kept mostly on a relaxed level with little dynamics displayed along the way, which could be considered a bit indistinguishable, but easily forgiven.

Personally I really enjoyed the music, although I suspect some listeners will find it a bit "too pretty" and altogether lacking the "kick" Jazz enthusiasts expect to hear in the music. There is no doubt Zaborski is a virtuoso and his performances here as every bit as strong as on his numerous earlier recording. His compositions are heavily influenced by Polish Folklore music and his Classical Music background, which he openly admits in his music, not trying to make it sound more Jazzy than it rally is.

Overall this is a very unique album, different from most of the output arriving on the Polish Jazz scene, and also different from the material Zaborski records with the Atoms, showing another facet of his musical personality. A Gentle Giant by all means, who can weave beautiful melodies and share them with his listeners with obvious love and modesty.
---