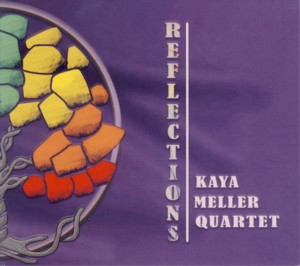 KAYA MELLER ~ REFLECTIONS
NOT ON LABEL ~ POLAND ~ Jazz
Recorded: 2019
Released: 2019
---
This is the debut album by young Polish Jazz trumpeter / composer Kaya Meller

Find albums by this artist

recorded with her quartet, which also includes pianist Eloa Goncalves

Find albums by this artist

, bassist Tin Dzaferovic

Find albums by this artist

and drummer Peter Lenz

Find albums by this artist

. The album presents seven original compositions, all by Meller.

The music is melody based modern European Jazz, well structured and coherent, but at the same time open enough to allow the music reach beyond the mainstream boundaries. The intimate quartet setting allows the leader and the pianist to develop lengthy solo parts, supported by the amicable rhythm section, which handles the standard rhythmic patterns and the odd meters with ease and elegance.

Meller´s trumpet playing – very unusual instrument for a female Jazz instrumentalist – is surprisingly mature and polished. It bears some traces of the Berklee education, but luckily the Americans didn't manage to kill her originality and she presents a highly individual stylistic approach, which shows strong European roots, lyricism and aesthetics, which is only present on the Old Continent. Her compositions offer broad and diverse stylistic explorations, which encompass within the same framework contemporary Chamber Music and Modern Jazz. Her ballads have a distinct Nordic characteristic, full of melancholy and minimalism, whereas her up-tempo compositions show a strong World Music influences and complex rhythmic structures.

Goncalves is a wonderful pianist and an ideal partner for Meller´s conceptual approach, providing beautiful melodic layers that carry the trumpet voicing. Her soloing is also exceptionally well structured and compliments the music every step of the way. The rhythm section keeps the music afloat with highly melodic and dense bass structures in the background and relatively sparse drumming, which is non obtrusive buy always right on the money.

Overall this is a stunning debut effort, presenting a young but already seasoned instrumentalist and a gifted composer, with obvious bright future ahead of her. The album is full of excellent music and first class performances, which can be enjoyed by every Jazz connoisseur around the globe. Very well done and bonne chance with the future endeavors!
---