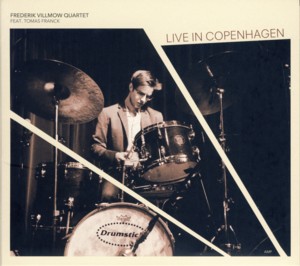 FREDERIK VILLMOW ~ LIVE IN COPENHAGEN
AMP 052 (Barcode: 013415901510) ~ GERMANY ~ Jazz
Recorded: 2019
Released: 2019
---
This is the debut album by the young German (resident in Norway) Jazz drummer Frederik Villmow

Find albums by this artist

recorded with his quartet which also includes German saxophonist Marc Doffey

Find albums by this artist

, Danish pianist Carl Winther

Find albums by this artist

and Norwegian bassist Julian Haugland

Find albums by this artist

. The quartet is expanded into a quintet with the addition of the veteran Swedish saxophonist Tomas Franck

Find albums by this artist

. The music was recorded live at the legendary Jazzhus Montmartre club in Copenhagen and presents seven tracks, five of which are original compositions (three by Villmow and two by Franck) and two are standards.

The music is typical European modern mainstream, mostly post Bebop oriented, based on solid melodic themes, which serve as basis for extended improvisations by the quintet members. The album does not venture into any experimental ground and stays on solid conventional Jazz path.

The focus of the album is on the fiery, scorching soloing by the saxophonists and the pianist, which offers an intense barrage of notes and superb highly energetic virtuosic display of Jazz energy, except for one intimate duo track (sax and bass). The rhythm section supports the soloists formidably and with an obvious display of youthful energy, which suits the music perfectly. The ensemble playing, especially considering the fact that this is a live recording, is excellent and all the musicians seem to be in high spirits obviously enjoying the opportunity to play together.

Overall this is a classic, highly energetic mainstream Jazz album, full of excellent music and heartfelt performances, which should satisfy any true Jazz lover around the globe. Warmly recommended!
---