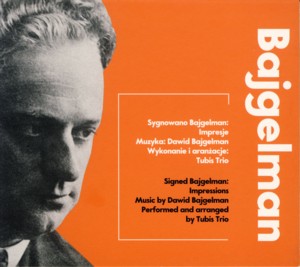 TUBIS TRIO ~ SYGNOWANO BAJGELMAN: IMPRESJE
PRIVATE EDITION ~ POLAND ~ Jazz
Recorded: 2019
Released: 2019
---
This is the fourth album by Polish Jazz piano trio (Tubis Trio

Find albums by this artist

) led by pianist / composer Maciej Tubis

Find albums by this artist

with bassist Pawel Puszczalo

Find albums by this artist

and drummer Przemyslaw Pacan

Find albums by this artist

. The album is a tribute to the Jewish violinist / conductor / composer Dawid Bajgelman

Find albums by this artist

, who was the director of the Lodz Yiddish Theater and who composed music for many Yiddish theatre plays, including S. Ansky´s "The Dybbuk", as well as many popular songs. Bajgelman was a prominent figure in the cultural life of the flourishing Jewish community of Lodz in the period between the two World Wars. He was interned in the Lodz ghetto in 1940 where he lived until 1944, and was sent by the last transport from the ghetto to Auschwitz, where he died in early 1945 shortly before the liberation. The album, commemorating the 75th Anniversary of the liquidation of the Lodz ghetto, presents Jazz arrangements by Tubis of seven songs composed by Bajgelman.

Tubis made a remarkable job in transporting Bajgelman´s music almost a Century forward in time, proving how timeless and universal the music was to start with. The trio performs the music with passion and elegance, expressing the mixture of joy and melancholy that Jewish music is always immersed in, reflecting Jewish passion for life, which often is met with harsh reality.

The trio members are all seasoned musicians and their instrumental performances are all, as expected, beyond reproach. The ensemble performances sound as if performed by one spiritual body of music-makers, and the dynamics and sensitivity in relation to the original music is truly superbly expressed. Listeners familiar with the original songs will be able to recognize the motifs of course, but one can assume that Bajgelman´s music is not easily found these days, and therefore this album serves a great opportunity to re-discover this immensely talented composer.

Although inevitably soaked in the Holocaust historic setting, the music is a celebration of life and creativity and a wonderful tribute to Jewish Culture and tradition. Thank you Maciej for undertaking this challenging project and putting so much soul into making it come true!
---