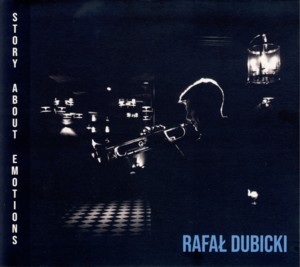 RAFAL DUBICKI ~ STORY ABOUT EMOTIONS
SOLTAN ART GROUP 001 (Barcode: 5907648374409) ~ POLAND ~ Jazz
Recorded: 2019
Released: 2019
---
This is the debut album by young Polish Jazz trumpeter / composer Rafal Dubicki

Find albums by this artist

, recorded in a quartet setting with guitarist Michal Soltan

Find albums by this artist

, bassist Mateusz Wozniak

Find albums by this artist

and veteran drummer Adam Lewandowski

Find albums by this artist

. The album presents nine original compositions, all by Dubicki. This album is also the first release on a new record label founded by Soltan, called Soltan Art Group

Find albums on this label

– best wishes with the new enterprise!

The music is all strongly melody based mainstream Jazz, moving between ballads and Latin rhythms, definitely on the lighter side of the Jazz spectrum, which could be labeled as "late night Jazz". The music swings and is spotlessly executed by the quartet members. Dubicki has a crystal clear, somewhat "old fashioned" trumpet tone, which is sadly very rarely used today, and which brings on nostalgic memories of the Swing Era. But his soaring soli are impressive and heartwarming. Soltan is an excellent and diverse guitar player and his soli are among the highlights of the album. Wozniak sticks to the basics and offers a solid bottom layer to the music, keeping things balanced and plays just one perfectly structured bass solo and Lewandowski, as usual, is totally in charge of the rhythm department.

Although this album will probably be dismissed by the Polish Jazz "critics", who will be lamenting about its straightforwardness and popular approach, albums like this are a completely valid part of the Polish Jazz scene, as long as they are as professionally put together as this one. Not everybody gets orgasmic listening to Avant-Garde doodling, and enjoying pleasant Jazz is definitely not a social crime.

Overall this is a nice Jazz album offering solid compositions and performances, which will make many listeners perfectly happy, and which will hopefully launch Dubicki´s musical career in the foreseeable feature.
---