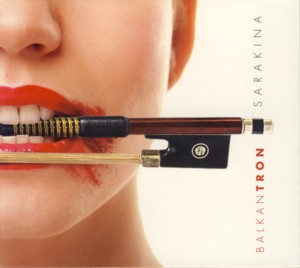 SARAKINA ~ BALKANTRON
NOT ON LABEL 008 (Barcode: 5907467786162) ~ POLAND ~ Jazz-World Fusion
Recorded: 2017
Released: 2017
---
This is the sixth album by Polish Jazz-World Music ensemble Sarakina

Find albums by this artist

, led by accordionist / composer Jacek Grekow

Find albums by this artist

, which also includes clarinetist Jan Mlejnek

Find albums by this artist

, bassist Mateusz Bielski

Find albums by this artist

, percussionist Krzysztof Ostasz

Find albums by this artist

and vocalist Anna Klebus

Find albums by this artist

. Bulgarian gadulka (traditional Bulgarian bowed string instrument) player Peyo Peev

Find albums by this artist

appears as a guest artist. The album presents nine pieces, six of which are original compositions by Grekow and three are traditional Bulgarian Folk pieces arranged by him.

The ensemble specializes in Balkan inspirations, with an emphasis on Bulgarian music on this album, obvious both by the choice of the material and the participation of Peev, whose virtuosic gadulka parts infuse the entire project with a strong authenticity. The album is full of deeply melancholic Bulgarian songs and jumpy up-tempo twist and turns, all weaved into the quite unusual for Western ears odd meters.

The completely acoustic sound of the music, which was excellently recorded at the Preisner Studio, is crystal clear and enables the listener to enjoy every single note being played. In its character Balkan music is very close to Middle Eastern music, especially in its modulation, which is not surprising considering the fact that the Balkans was part of the Ottoman Empire for hundreds of years and the Turkish influences were deeply absorbed within its cultural fabric. Although pretty distanced from the strict Jazz improvisations, this music offers enough of improvisational spirit to be embraced as a Jazz-World Music without any reservations.

Overall this is a delightful album, full of a peculiar mixture of joy and sadness, which is characteristic of Balkan music. All the performances are highly professional and inspired and of course Peev adds a virtuosic layer to the proceedings. Lovers of Balkan music will of course be delighted, but those not familiar with that music are wholeheartedly invited to take a plunge!
---