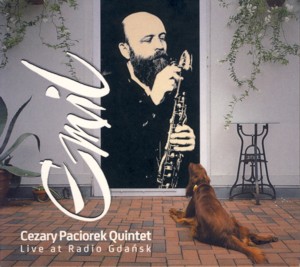 CEZARY PACIOREK ~ EMIL: LIVE AT RADIO GDANSK
SOLITON 944 (Barcode: 5901571099446) ~ POLAND ~ Jazz
Recorded: 2018
Released: 2019
---
This is an album by veteran Polish Jazz accordionist / composer Cezary Paciorek

Find albums by this artist

recorded live in a quintet setting with clarinetist Marcin Janek

Find albums by this artist

, violist Filip Kowalski

Find albums by this artist

, bassist Pawel Urowski

Find albums by this artist

and drummer Adam Golicki

Find albums by this artist

. The project is a tribute to the clarinetist / composer Emil Kowalski

Find albums by this artist

, who passed unexpectedly in 2008 and who was a lifetime friend and musical partner of Paciorek. Kowalski was a prominent Jazz-Classical and Jazz-World Fusion activist and a much loved personality on the Polish Baltic Tricity scene. The majority of the music on this album was composed by Paciorek but includes also two Classical pieces arranged by Kowalski and a medley of standards.

The music offers a pretty diverse collection of melodic Jazz tunes with both World and Classical Music influences, as expected by the project´s objective, performed completely acoustically, offering a fresh and immediate sound rarely found on albums today. The sound of the live recording is clear and well defined, with the bass a bit too high and the drums too low in the mix, but nothing that would spoil the fun of listening to the music. The compositions by Paciorek are all solid, with a tinge of melancholy always present.

The performances are professional, as expected from these experienced musicians, with Paciorek delivering his virtuosic solo parts, which are the heart of the entire project. But Filip Kowalski (the son of the late Emil Kowalski) and Janek also deliver some splendid soloing. The rhythm section is up to par with the three soloists and provides a steady, reliable and tasteful backing.

Overall this is a nice collegial gesture which honors a memory of a friend musician, who deserves to be remembered, as much as a pleasant musical venture, which can be enjoyed by a wide audience of Jazz and around listeners.
---