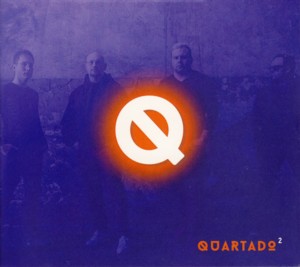 QUARTADO ~ QUARTADO 2
SOLITON 938 (Barcode: 5901571099385) ~ POLAND ~ Jazz-Rock Fusion
Recorded: 2019
Released: 2019
---
This is the second album by Polish Fusion quartet Quartado

Find albums by this artist

, which comprises of keyboardist Jan Rejnowicz

Find albums by this artist

, guitarist Marcin Wadolowski

Find albums by this artist

, bassist Karol Kozlowski

Find albums by this artist

and drummer Tomasz Losowski

Find albums by this artist

. The album presents eight original compositions; four by Rejnowicz, two by Wadolowski and one each by Kozlowski and Losowski.

The music continues exactly where the debut left off, with the same Fusion feel based on highly melodic compositions and full of typical Fusion riffs, which have been around for the last fifty years, which means that this album might have been recorded anytime between 1970 and now and nobody would be able to pinpoint the recording date. This of course proves that Fusion is one of the most stable (or stale is one wants to be nasty) Jazz idioms out there. Having said that, this music is really quite excellent as far as Fusion is concerned, full of great tunes, excellent playing and "positive energy", as the quartet states on the album´s cover.

The technical level of the performances is much better than on the debut, especially the keyboards, which offer a diverse sonic kaleidoscope of instruments between acoustic and electric pianos, organ and synthesizers. The soloing is solid and very well structured this time. The only pity is that the keyboards completely dominate the proceedings, and the role of the guitar is sadly much less prominent. Wadolowski is obviously a growing force on the Polish guitar scene and his playing is significantly superior, which is an asset the quartet could have explored more efficiently. The rhythm section does a perfect job all the way through, doing exactly what is expected in the Fusion environment, i.e. keep the beat steady and the groove swinging.

Overall this is a splendid Fusion album, perfectly in the middle of the Fusion mainstream, which should keep most of the fans of the genre perfectly happy. It is certainly as good as anything produced by American Fusion bands that are still around, if not better than most. Highly recommended to Fusion-heads the world over!
---