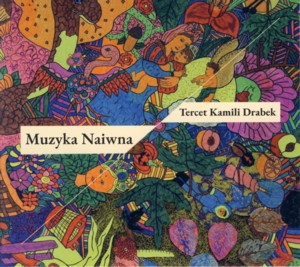 TERCET KAMILI DRABEK ~ MUZYKA NAIWNA
SOLITON 951 (Barcode: 5901571099514) ~ POLAND ~ Jazz
Recorded: 2019
Released: 2019
---
This is the debut album by young Polish Jazz trio led by bassist / composer Kamila Drabek

Find albums by this artist

, with saxophonist Marcin Konieczkowicz

Find albums by this artist

and drummer Kacper Kazmierski

Find albums by this artist

. The album presents eleven tracks, ten of which are original compositions by Drabek and one is a standard arranged by her. The music was recorded at the Monochrom Studio and engineered by Ignacy Gruszecki

Find albums by this artist

and offers a wonderful natural sound quality.

The album´s title (Naïve Music in English) is a most appropriate description of its musical contents, which is a collection of seemingly simplistic and minimalist compositions, played without much panache or exhibitionism. All this is an obvious and fully conscious approach by the composer and the trio, trying to keep the music down to its bare components, without polluting it with unnecessary adornment, which is the modus operandi of Naïve Art. Naïve is sadly often confused with primitive or underdeveloped, but in Art it simply means natural / honest / direct rather than limited.

The music presented here is by all means fully developed as are the technical skills of the trio members, and the minimalist approach is extremely effective as far as getting the message through, especially in today´s noise polluted musical environment. As a result the album offers a completely innovative path, which of course is commendable, especially in view of the young age of the musicians involved. It takes a few listening sessions to get to the bottom of these compositions and discover their full blossom, but the effect is definitely worth the effort.

The recording quality of the music allows the listener to hear clearly every nuance of the instrumental work, which under these circumstances is even more important than usual, as every note played counts. As already stated, this kind of natural sound complements this music perfectly.

Overall this is a splendid and very unique debut, which certainly deserves to be heard and rises high hope as to the future if its creators. Very well done!
---