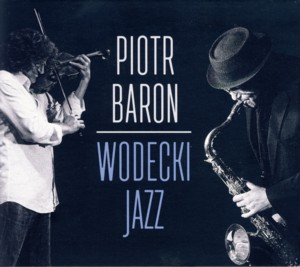 PIOTR BARON ~ WODECKI JAZZ
POLSKIE RADIO 2213 (Barcode: 5907812244460) ~ POLAND ~ Jazz
Recorded: 2018
Released: 2019
---
This is an album by veteran Polish Jazz saxophonist / composer Piotr Baron

Find albums by this artist

, which pays homage to the music composed by much respected and loved Polish singer / songwriter / musician Zbigniew Wodecki

Find albums by this artist

, who died in 2017. Baron, who plays saxophones and bass clarinet, is accompanied by trumpeter Robert Majewski

Find albums by this artist

, pianist Michal Tokaj

Find albums by this artist

, bassist Maciej Adamczak

Find albums by this artist

and drummer Lukasz Zyta

Find albums by this artist

and several guests. The album presents six songs composed by Wodecki (one is repeated twice in vocal and instrumental versions). One of the songs features vocals, one features a short rap part and another one includes spoken word, but most of the material is entirely instrumental.

The music is a usual mainstream Jazz treatment of Pop material, definitely on the lighter side of the spectrum, but very professionally executed by the participating musicians, which is obviously intended for a wide audience of Wodecki´s fan base. Contrary to the opinion voiced by Polish Jazz "critics" this album does not cross over to kitsch and as far as the playing by the quintet is concerned it is a perfectly legit mainstream outing. Baron, Majewski and Tokaj are seasoned veterans and their performances are excellent as always, as is the job done by the rhythm section. Of course personally I´d prefer to hear Baron and his cohorts to play a way more ambitious material, as they did many times in the past, but there is nothing wrong with playing a bit of relaxing mainstream, based on the excellent melodies composed by Wodecki. At least they are not playing standards.

Of course the circumstances sound a bit opportunistic, but the album´s liner notes explain that Baron and Wodecki, who loved Jazz and even had a Jazz period in his career, intended to record an album together since a long time but Wodecki´s untimely death sadly put an end to these plans. So this album is a sort of fulfillment of a promise rather than a less noble intent.

Overall this is a very well rounded mainstream Jazz album, which does justice to Wodecki´s compositions and offers highly professional performances, with excellent soloing by Baron and Majewski and superb piano parts by Tokaj. Even the use of rap is tasteful and the arrangements of all the songs are elegant and even sort of cool. I wish the listeners were spared the one vocal part, but otherwise this is a nice, accessible but still very well done album, which will make many listeners very happy.
---