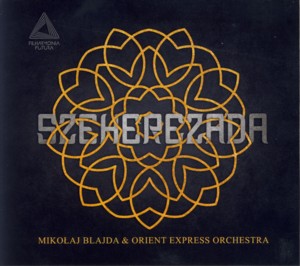 MIKOLAJ BLAJDA / ORIENT EXPRESS ORCHESTRA ~ SZEHEREZADA
FILHARMONIA FUTURA (Barcode: 5902659800923) ~ POLAND ~ Jazz-World Fusion
Recorded: 2019
Released: 2019
---
This is an ambitious Jazz-World Fusion project by Polish multi-instrumentalist / composer / arranger / conductor Mikolaj Blajda

Find albums by this artist

, which reflects his fascination with Arab culture in general and Arabic music in particular. The project is carried out by a large ensemble, which combines musicians originating from Arab countries, like vocalists Rasm Al-Mashan

Find albums by this artist

(living in Poland) and Wissem Karoui

Find albums by this artist

, oud player Amine Mraihi

Find albums by this artist

and qanun player Hamza Mraihi

Find albums by this artist

, who are joined by Polish Jazz musicians like flautist / saxophonist Leszek HeFi Wisniowski

Find albums by this artist

, drummer Pawel Dobrowolski

Find albums by this artist

and duduk player Pawel Solecki

Find albums by this artist

. A string quartet also takes part in the recording and the leader plays keyboards, bass, flugelhorn and percussion instruments. The album presents nine original compositions all composed by Blajda and arranged by him, and is relatively short lasting well under forty minutes.

As someone who hears original Arabic music on a daily basis and lives in a geographical location soaked in Arabic culture, my perspective on this music is obviously quite different from that of Polish / European public. Therefore I have to start by stating that the music on this album has relatively little in common with original Arabic music. It is a Jazz-World fusion project which incorporates some Oriental / Middle Eastern musical elements, which may sound exotic and carry certain mysticism to a European listener, but it does not go beyond that as far as being close to the origin.

Having said that, the album is a most welcome and certainly beautifully weaved attempt to bring Cultures together and offers gorgeous melodic themes and excellent performances by all the musicians involved. European listeners should enjoy the wonderful melodic contents spiced with the oriental elements, as well as the Jazzier improvised parts, which come together to create a most enjoyable musical amalgam. The vocal parts are among the highlights of the album.

Overall this is an ingenious attempt to bring the riches of Arabic music one step closer to listeners who have no opportunity to discover them from other sources. It also breaks the xenophobic barriers between People, emphasizing the universality of Music and its beauty, which crosses boundaries much easier that ideologies. The album offers intelligent, well constructed music, which is accessible but makes no opportunistic compromises. For listeners who are open to music reaching beyond their immediate environment this is a most enjoyable adventure.
---