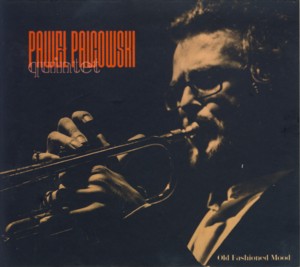 PAWEL PALCOWSKI ~ OLD FASHIONED MOOD
SJ 042 ~ POLAND ~ Jazz
Recorded: 2018
Released: 2019
---
This is the debut album by young Polish Jazz trumpeter Pawel Palcowski

Find albums by this artist

recorded in a quintet setting with saxophonist Jakub Lepa

Find albums by this artist

, pianist Boguslaw Kaczmar

Find albums by this artist

, bassist Maciej Kitajewski

Find albums by this artist

and veteran drummer Arek Skolik

Find albums by this artist

. Trombonist Szymon Klekowicki

Find albums by this artist

guests on one track. The album presents seven original compositions, all by Palcowski.

As the album´s title suggests, it pays tribute to the classic mainstream Jazz period of the 1950s and 1960s, when Bebop, Hard Bop and Cool Jazz ruled and the foundations and most mannerisms of modern Jazz were "carved in stone". Palcowski deliberately tries to reconstruct not only the typical compositions of the era but also the sound and feel of the period, utilizing the most popular setting of the time – the classic Jazz quintet.

Although re-visiting that period, especially among the young generation of European Jazz musicians, is definitely less popular these days, and often even considered less ambitious, Palcowski manages to create a wonderful piece of music, which offers not only a nostalgic trip down the memory line but a bona fide mainstream Jazz album, which sounds as if it was a "lost" Blue Note

Find albums on this label

treasure, found in the vaults.

All the compositions on this album as every bit as solid, coherent and spirited as anything that can be heard on the albums recorded at the time, which is truly remarkable. A young musician, decades later and thousands of kilometers away is able to crack the genetic code of this music perfectly and make it his own, not copying but creating new tunes which have the same magic feeling.

The performances are also perfect and ideally suiting this particular music. There is no spectacular soloing but a series of well structured solo performances by the trumpet, saxophone and piano, supported by the entire quintet and the steady rhythm section which does a perfect job.

Overall this is a splendid debut album, which proves that the young generation of European Jazz musicians is not only aware of the tradition and the history, but is also able to embrace it lovingly. I had the pleasure to hear Palcowski many times live during his student years at the Katowice Music Academy and it was obvious that he is going places. Well done Sir!
---