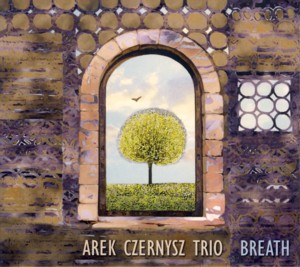 AREK CZERNYSZ ~ BREATH
BCD 45 (Barcode: 5906881885451) ~ POLAND ~ Jazz
Recorded: 2018
Released: 2019
---
This is the debut album by young Polish Jazz accordionist / composer Arek Czernysz

Find albums by this artist

recorded in a trio format with bassist Filip Arasimowicz

Find albums by this artist

and drummer Antoni Wojnar

Find albums by this artist

. The album presents seven original compositions, all by Czernysz.

In the contemporary music world the accordion became almost completely neglected and its glorious past is by now utterly forgotten. In Jazz accordion was always a rarity and of course it is even more so today, but an accordion trio with bass and drums is just about unheard of. The physical difficulty involved in playing the instrument, the technique and rigor required to master it and of course the complete absence of sex appeal the instrument radiates are just some of the reasons why very few young musicians want anything to do with it. Therefore Czernysz a priori deserves respect and praise for accepting the challenge.

The music Czernysz composed for this album was obviously created with accordion in mind and suits the trio perfectly. It offers a wide range of stylistic influences obviously Jazz but also many World Music elements, some hints of Blues and of course the omnipresent Polish lyricism and melancholy present on almost every album made in Poland. He also cleverly avoids exploring the palpable accordion temptations like Tango, Polka and various folkloristic areas clearly associated with the instrument, creating his own musical ambience that shows no signs of imitation. In fact the music is certainly way more mature that what one might expect from such young composer.

As a player Czernysz obviously shows a lot of talent and potential, but his performance lacks the polish and virtuosity that come with time and experience. Having said that the music is perfectly executed in every respect, it only lacks certain brilliance that is simply not here just yet but will definitely appear soon, perhaps even on his next album. I hope this does not sound discouraging in any way, as it is not meant to be; all I am saying at this point is that when Czernysz will add virtuosity to his performance, he will be unstoppable.

The rhythm section does a splendid job shoulder to shoulder with the leader. As already mentioned above a bass / drums accompaniment to accordion does have a limited precedence and a tight cooperation as displayed on this album is definitely praiseworthy.

Overall this is an exciting, bold debut album which offers splendid compositions, fine performances and a novelty effect of hearing accordion in a fresh musical environment. It is definitely wholeheartedly recommended and absolutely worth being discovered!
---