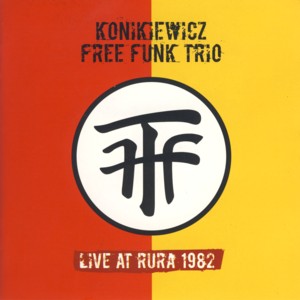 WOJCIECH KONIKIEWICZ / FREE FUNK TRIO ~ LIVE AT RURA 1982
GAD 091 (Barcode: 5903068120237) ~ POLAND ~ Jazz-Rock Fusion
Recorded: 1982
Released: 2019
---
This is an archival album presenting a live concert recording by Polish Jazz keyboardist / composer Wojciech Konikiewicz

Find albums by this artist

and his Free Funk Trio

Find albums by this artist

, which also included bassist Mieczyslaw Jurecki

Find albums by this artist

and drummer Jacek Ratajczyk

Find albums by this artist

. Recorded at the legendary Wroclaw Jazz Club Rura, it presents eight original compositions, all by Konikiewicz.

To properly understand the historic perspective of this recording it is important to remember that this music was recorded just a few months after Martial law was imposed in Poland in December of 1981, in a desperate attempt of the Socialist regime to quench growing social and political unrest in the country. As usual in Poland, political dictatorship was always challenged by the country´s intelligentsia and Artistic circles, and although Cultural activities were severely limited and heavily censored, they became a primary form of resistance to the oppression. Some of that anger and frustration is evidently expressed by these young (at the time) musicians in their display of wild energy and complete disregard of authority, as much musical as political.

The music is a raw mixture of Funk, Punk, Jazz, Rock and Groove, which will become the modus operandi for Konikiewicz for years to come and which was obviously influenced the late period stylistic explorations of Miles Davis

Find albums by this artist

, who remains a major influence on Konikiewicz to this very day. Fate decided that Davis played at the Jazz Jamboree Festival in Poland just over a year after this music was recorded, immediately after the Martial law was lifted in 1983.

Although the trio format might seem somewhat limiting for such explosive musical adventure, Konikiewicz and his cohorts squeeze the proverbial lemon to the max under the circumstances, giving everything, both musically and emotionally, they have to offer. Konikiewicz on acoustic piano and the Fender Rhodes is in charge of the melodic content, but his percussive playing goes hand in hand with the dynamic rhythm section, which takes care of the groove, with occasional outbursts of frenzy solo parts featuring the fretless bass and the drums.

There is no doubt that the Free Funk Trio was a formative ensemble in the musical career of Konikiewicz. The same kind of attitude present here, which eschews pompous mannerisms and fake pretentiousness, will be his musical compass in the years to come, when he was involved in some the most important Polish Jazz projects during the 1980s and 1990s, alas hardly ever scoring any real-time recognition for his efforts. It was also the same attitude that ostracized him from the established domesticated Polish Jazz establishment, causing him to be active mostly on the fringe scene, refusing to compromise and sell out; an attitude which makes me proud to call him my friend.

Overall this album is an important piece of the Polish Jazz history, which is brought back to life by the excellent GAD Records label, which never fails to nail the forgotten gems and expand our horizons. It is most educational and certainly warmly recommended!
---