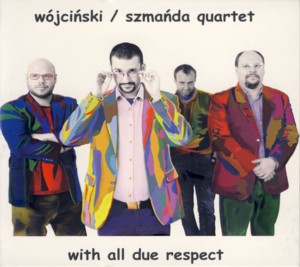 WOJCINSKI / SZMANDA QUARTET ~ WITH ALL DUE RESPECT
KANSAS ~ POLAND ~ Free Jazz / Improvised Music
Recorded: 2018
Released: 2019
---
This is the second album by the Polish Avant-Garde Jazz ensemble Wojcinski / Szmanda Quartet

Find albums by this artist

, which comprises of the brothers: trumpeter Maurycy Wojcinski

Find albums by this artist

, pianist Szymon Wojcinski

Find albums by this artist

and bassist Ksawery Wojcinski

Find albums by this artist

and drummer Krzysztof Szmanda

Find albums by this artist

. The album presents four lengthy compositions co-credited to all four members of the quartet. The music was recorded live as part of the "Quality Jazz Live!" series of concerts at the Quality Studio in Warsaw and offers an excellent sound quality and clarity.

The music is less surprising this time, as it continues the direction the quartet developed on the debut recording, but it is by all means no less powerful and expressive. The four strong musical personalities are perfectly merged together to create a flawlessly tuned Improvised Music ensemble, which functions based on just about telepathic communication between the participants. The modus operandi of the quartet remains unchanged and is basically a series of conversations involving two, three or four musicians, often happening simultaneously on two or more parallel planes, which of course does not make it easy for the listener to follow everything that is happening and requires skill and concentration.

Although the four pieces, which all last on average for about fifteen minutes, might seem a bit excessive, the result is quite the opposite. The intrinsic structure of these pieces is fascinating and offers a coherent build up of tension and musical scope. Starting with a few single notes, these improvisations fork (Unix users will get this) into several threads existing in parallel and yet cooperating to create a greater whole.

One of the most interesting aspects of this music is the treatment of the traditional role of the rhythm section, which is almost completely discarded here. The bass and the drums are assigned totally equivalent credence to the trumpet and the piano and as a result become true partners of the entire process. The beautiful bass parts and the superbly inventive drumming are every bit as important in this music as are the scorching trumpet soli and the intriguing piano parts.

Overall this is an amazing piece of music, which is a beacon for the entire Avant-Garde / Free Jazz / Improvised Music idiom, which sadly more often than not misses the "music" part in its essence. It is the epitome of contemporary European / Polish Jazz at its best, which proves again that great Avant-Garde music can be communicative due to its intrinsic power of expression. These fabulous musicians donít mess around, as so many other representatives of this idiom constantly do, and simply play music. Hats off Gentlemen!
---