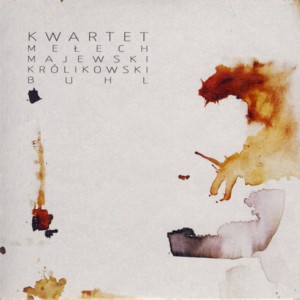 MELECH / MAJEWSKI / KROLIKOWSKI / BUHL ~ KWARTET
PLEXUS OF INFINITY ~ POLAND ~ Avant-Garde Jazz
Recorded: 2018
Released: 2019
---
This is the debut album by the Avant-Garde Polish Jazz quartet led by clarinetist Piotr Melech

Find albums by this artist

, which also includes pianist Jakub Krolikowski

Find albums by this artist

, bassist Jaroslaw Majewski

Find albums by this artist

and drummer Jacek Buhl

Find albums by this artist

. The album presents ten tracks, all co-composed by the members of the quartet.

The music is typical Avant-Garde / Improvised Music project, which offers spontaneously created music not based on any clear melodic threads and which relays the spur of the moment mutual exchanges between the musicians. For people from outside of the Improvised Music circle this music is completely non-communicative and bizarre, and only a tiny group of connoisseurs is able to listen to it and enjoy it for what it is. Such is the sad fate of any Avant-Garde Art.

However, for people familiar with the Polish Avant-Garde Jazz, which enjoys an extraordinary renaissance in the last decade, the name of Melech is pretty familiar as a result of about half a dozen of his earlier recordings, all of which made a mark on the local scene. His wonderful clarinet work, which often sounds very Klezmerish, is very unique and often resembles the work of the Israeli clarinet Master Harold Rubin

Find albums by this artist

. Melech firmly controls the flow of the music, setting the structural and rhythmic ambience, with the rest of the quartet following his lead.

Buhl, who is perhaps the leading Polish Avant-Garde drummer and a true musical persona, adds a wonderful layer to the music. He is obviously the most experienced musician on this album and his superb technique and sensitivity are a natural counterbalance to Melech´s clarinet work. Krolikowski and Majewski, who are lesser known, keep up with the two veterans and contribute their parts without a hitch.

Overall this album offer depth and remarkable teamwork between the musicians, which of course is not surprising considering the excellent musicianship present on the Polish Avant-Garde Jazz scene. Although obviously not for everybody, this music is exactly what connoisseurs of Improvised Music look for in an album. Well done!
---