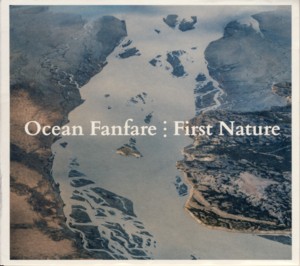 OCEAN FANFARE ~ FIRST NATURE
BAREFOOT 060 (Barcode: 5706274010053) ~ POLAND ~ Avant-Garde Jazz
Recorded: 2018
Released: 2019
---
This is the second album by the international Jazz quartet Ocean Fanfare

Find albums by this artist

that comprises of Polish trumpeter / composer Tomasz Dabrowski

Find albums by this artist

and three Danish Jazz musicians: saxophonist / composer Sven Dam Meinild

Find albums by this artist

, bassist Richard Andersson

Find albums by this artist

and drummer Peter Bruun

Find albums by this artist

. It presents nine original compositions, five by Dabrowski and four by Meinild.

The music continues from where the debut album left off, investigating further explorations of the tight conversations between the quartet members, but moving into even more open musical space and towards Avant-Garde / Free Jazz idiom. There is little of straightforward melodic contents and far more improvisation, although the quartet manages to keep the music coherent enough to avoiding losing the listener in the process. As a result this album is certainly more difficult and less communicative with the listeners who are not hardened adventurous music connoisseurs, which of course limits the audience for which this music might prove enjoyable.

Having said that, it must be emphasized that Dabrowski and his cohorts play some fascinating notes together and manage to create tension and continuity, which is superbly executed from start to finish. This music does not allow much space for individual statements, as it is based on close cooperation and constant group improvisation, but from time to time both Dabrowski and Meinild manage to squeeze in breathtaking soli, which of course are of hair-raising quality. The rhythm section also performs brilliantly throughout the album, being at all times on equal level with the two soloists. Ambitious music of this sort often impairs on the ability of individual performers to dazzle, but the ensemble as a whole gains the full creational abilities of its members.

Overall this is a superb modern Jazz with Avant-Garde tendencies, which offers splendid instrumental performances and exemplary ensemble playing, which this kind of music thrives on. Dabrowski, as usual, delivers some trumpet magic that fully justifies his position as one of the leading European trumpeters, which by now is universally accepted.

This is not for everybody, but listeners who enjoy ambitious and highly aesthetic as well as challenging music should enjoy this album in full. Warmly recommended!
---