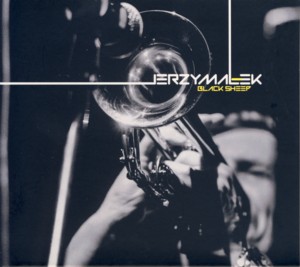 JERZY MALEK ~ BLACK SHEEP
NOT ON LABEL ~ POLAND ~ Jazz
Recorded: 2018
Released: 2019
---
This is the eighth album by Polish Jazz trumpeter / composer Jerzy Malek

Find albums by this artist

, recorded in a classic Jazz quintet setting with saxophonist Radek Nowicki

Find albums by this artist

, pianists Piotr Wylezol

Find albums by this artist

or Aga Derlak

Find albums by this artist

, bassist Max Mucha

Find albums by this artist

and drummer Sebastian Frankiewicz

Find albums by this artist

. The album presents seven original compositions, all by Malek.

Stylistically the music is all within melodic Jazz mainstream, close to the American Jazz tradition, quite atypical to the contemporary Polish Jazz scene, which is more modernistic and experimental. That said, the music is wonderfully crafted and perfectly executed by seasoned musicians and sound every bit as good as the best of what American Jazz has to offer, proving again that Polish Jazz deserves to be completely free from any inferiority complexes in comparison to what is happening across the pond.

Malek has a brilliant ability to weave perfect tunes, all of which are well rounded and based on coherent melodic themes, especially so with his marvelous ballads. On the whole his compositions are truly classic examples of post Bebop idiom at its finest. Although not very innovative, this kind of music is still perfectly valid and has many followers the world over and albums like this are a perfect fit to their bill of fare.

Of course Malek is also a wonderful trumpeter, with perfect skills and intelligence, which guides him to avoid empty flashy displays of technique. His playing is always soulful and heartfelt, and a true pleasure to listen to. The other quintet members are all seasoned veterans and even the young Aga Derlak, who plays on two tracks, does an excellent job and showcases the next generation of the Polish Jazz stars.

Overall this is a perfect mainstream Jazz album in every respect, full of wonderful music and perfect musicianship, which should completely satisfy all connoisseurs of that idiom regardless of their geographical location. It is also an excellent example of the quality of Polish Jazz and the abilities of Jerzy Malek as a composer and a trumpeter, which he earned fair and square by hard work and a heap of talent. Well done!
---