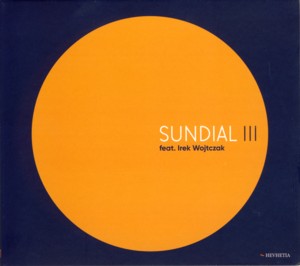 JACHNA / TARWID / KARCH ~ SUNDIAL III
HEVHETIA 0186 (Barcode: 8588005258593) ~ POLAND ~ Avant-Garde Jazz
Recorded: 2018
Released: 2019
---
This is the third album by the excellent Polish Jazz trio consisting of trumpeter Wojciech Jachna

Find albums by this artist

, pianist Grzegorz Tarwid

Find albums by this artist

and drummer Albert Karch

Find albums by this artist

. This time the trio is expanded into a quartet with the inclusion of the veteran saxophonist Irek Wojtczak

Find albums by this artist

. The album, recorded live, presents nine original compositions, all composed or co-composed by the trio members.

It is quite a challenge to follow the two superb albums which the trio recorded earlier with another extraordinary piece of music, which will continue the same level of emotional depth and sophistication. This is perhaps the reason why the trio members decided to reinforce their ranks with the addition of Wojtczak, who has achieved a remarkable level of respect and appreciation on the Polish scene, being one of the most creative and open-minded musicians on the scene. In retrospect this decision proved to be most fruitful and successful musically.

The music on this album is even more open and adventurous than on the two earlier albums, still offering a pre-composed skeleton but relaying more on spontaneous improvisation than ever before. It is therefore further removed from the Contemporary Classical tendencies followed earlier on and moves toward Avant-Garde contemporary music, with an emphasis on both group and individual improvisation. The melodic themes become more minimalist and nebulous, strongly related to the Krzysztof Komeda

Find albums by this artist

legacy he defined in the mid-1960s. I am pretty sure this music would put a smile on his face.

As usual, the individual contributions by the trio members are highly inspired and perfectly executed. Wojtczak integrates with the trio completely and unconditionally, becoming entirely naturally an integral part of the music making unit. Obviously his presence enhances and deepens the overall sound and adds new possibilities, which are immediately sized upon by the trio members. One could hardly hope for a more innate combination of improvising powers than this. The future will tell weather Wojtczak joins the trio on a permanent basis, turning it into a quartet or this was just a one time only collaboration, but the potency of this ensemble is fully exposed on this album.

It is only natural that musicians of this caliber refuse to stand still and keep searching constantly, and therefore it is completely normal to see the music evolving and developing from one album to the next. As long as they manage to keep it interesting, inspiring and deeply satisfying, like in this case, we should be grateful and feel blessed that such music is being made.

Overall this is a remarkable album, certainly marking a noteworthy event in the 2019 list of Polish Jazz releases and deserving the admiration and respect reserved only for the very best of its kind. Thank you for the music, as always!
---