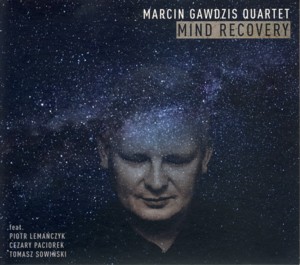 MARCIN GAWDZIS ~ MIND RECOVERY
SOLITON 892 (Barcode: 5901571098920) ~ POLAND ~ Jazz
Recorded: 2018
Released: 2018
---
This is an album by veteran Polish Jazz trumpeter / composer Marcin Gawdzis

Find albums by this artist

recorded in a quartet setting with other veterans of the Polish Baltic Jazz scene: pianist Cezary Paciorek

Find albums by this artist

(mostly known as an accordion virtuoso), brilliant bassist Piotr Lemanczyk

Find albums by this artist

and drummer Tomasz Sowinski

Find albums by this artist

. The album presents seven original compositions, all by Gawdzis.

The music is a highly melodic mainstream Jazz, somewhere between Bebop and Hard Bop, but with the usual Polish twist, adding elements of Slavic melancholy and lyricism. Al the melodies are wonderfully crafted and harmonically coherent, serving as excellent examples of contemporary Jazz firmly based in the classic Jazz tradition. If blind tested this album might be easily mistaken as a Blue Note session from the 1960s, and I mean this as a compliment.

All four instrumentalists present a proficient technical level and a high sensitivity, which is obviously world class in every respect. Gawdzis has a clear and precise tonality and his solos are perfectly structured. Paciorek is the romantic of the four and his harmonies are always where they belong and his solos are heartbreaking. Lemanczyk, as always, pours his heart out and his bass lines are elegant and sophisticated, as expected from one of the top bass players in the country. Sowinski plays delicately, in accordance with the character of the music, staying mostly in the background, but his presence is felt in the places where a rhythmic support is needed.

Polish Jazz scene is famous for its young generation of superb Avant-Garde / modernist trumpeters, which is truly amazing in every respect, but there are still several excellent conventional players, like Gawdzis, who also deserve the attention of Jazz fans; this album is definitely the proof of such well deserved attention.

Overall this is a splendid mainstream Jazz album with excellent compositions and admirable performances, which should be interesting to every Jazz connoisseur on this globe. Very well done Gentlemen!
---