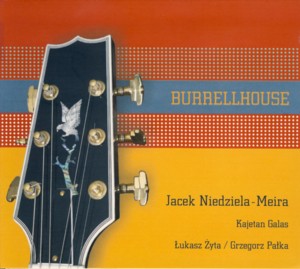 JACEK NIEDZIELA-MEIRA ~ BURRELLHOUSE
SJ 039 (Barcode: 5912596066719) ~ POLAND ~ Jazz
Recorded: 2018
Released: 2019
---
This is an album by the veteran Polish Jazz bassist / composer / educator Jacek Niedziela-Meira

Find albums by this artist

which his debut album as a guitar player, recorded in a classic guitar trio setting with Hammond player Kajetan Galas

Find albums by this artist

and drummers Lukasz Zyta

Find albums by this artist

or Grzegorz Palka

Find albums by this artist

. The album presents nine tracks, two of which are original compositions by the leader, six are standards and one is a Polish Pop song. The music was recorded at the excellent Studio Tokarnia and offers a wonderful classic Blue Note

Find albums on this label

sound.

For people familiar with the Polish Jazz scene this album comes of course as a surprise, as a result of the decision by the leader to switch instruments, but the result is very satisfying. The sound and material are based on classic model set by American Hammond player Jimmy Smith

Find albums by this artist

and his trio, which included among others guitarists also the superb guitar Master Kenny Burrell

Find albums by this artist

, who serves as an obvious influence on the leader.

The conservative mainstream Jazz approach, going back s few decades in the history of the Jazz idiom, could be pretty disastrous musically, but in this case it is a fresh breath of air, which proves that well played mainstream Jazz still sounds solid, beautiful and enjoyable in spite of the passing time.

Niedziela-Meira turns out to be a very talented and technically proficient classic / old style Jazz guitar player, who emphasizes the clarity of the tone and precision of the notes like a true pro. His sound does follow the example set by the Jazz guitarists form the 1950s / 1960s almost exactly, but with a fresh vigor and fluidity.

Galas is of course an absolute marvel with his Hammond bringing back fond memories of the glory of this beautiful instrument. His improvisations, always melodic and coherent and yet often surprisingly sophisticated, are an absolute sensation and are alone worth having this album. Both alternating drummers keep the time like clockwork, which for this kind of music is exactly what the doctor prescribed.

Overall this is a very pleasant album, which reproduces the mood and sound going back half a century, but offers a rejuvenated perspective on the guitar trio format, which is almost completely absent from the contemporary Jazz scene. Full of wonderful music and excellent musicianship, this album is fun from start to end for listeners who like this period of Jazz. For guitar and Hammond connoisseurs, this is a must of course!
---