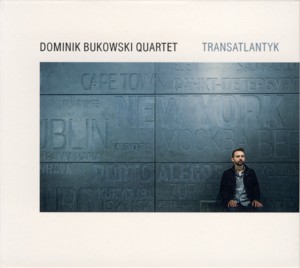 DOMINIK BUKOWSKI ~ TRANSATLANTYK
SOLITON 887 (Barcode: 5901571098876) ~ POLAND ~ Jazz
Recorded: 2018
Released: 2018
---
This is an album by veteran Polish Jazz vibraphonist / composer Dominik Bukowski

Find albums by this artist

recorded in a quartet setting with younger musicians: trumpeter Emil Miszk

Find albums by this artist

, bassist Adam Zuchowski

Find albums by this artist

and drummer Patryk Dobosz

Find albums by this artist

. The album presents nine pieces, seven of which are original compositions by Bukowski, one is co-composed by all four members of the quartet and one is an arrangement of a composition by Polish Classical Music composer Andrzej Panufnik

Find albums by this artist

.

The music on this album was inspired by the human experience of emigration, of leaving someone´s home and country and moving to another place, a process millions of Poles went through in modern history for a variety of reasons and as a result of economic, political, religious and personal pressures.

This, Bukowski´s sixth album as a leader, repeats the lineup of his previous album "Sufia

Find albums with this title

", with Miszk replacing Amir ElSaffar

Find albums by this artist

and the rhythm section remaining in place. Miszk, who makes an impressive mark on the local scene lately, is in charge of most of the solo parts, as expected.

The music continues the path set by Bukowski many years ago, which is based on the characteristic Polish lyricism and melancholy, but keeps changing and developing from one album to the next. The recording of the preceding album made a distinctive mark on Bukowski´s music with the inclusion of odd time signatures and strong World Music influences, which are also present here. But the music is in general more daring and adventurous, which can be perhaps credited also to the presence of the young players.

The challenging task of creating a "concept album", which presents a coherent sequence of compositions with a common context uniting them, is achieved here remarkably well and the atmosphere of "storytelling" is felt distinctly, emphasized by the inclusion of the spoken word parts. The feeling of uncertainty, fear and outlandishness is present very vividly, expressing the mental state of émigrés, surly at the early stages of their new lives, but often lastingly. Therefore this album deserves a somewhat different perspective than a purely musical creation.

Overall this is a momentous piece of Art, powerful both musically and as a document of human emotional states, which deserves a serious and attentive listening. Although the texts are almost exclusively in Polish, their meaning is universal enough to be felt without actually understand the verbal context. As someone who went through the process of emigration I can of course relate to this album more directly and emotionally than those who didn´t experience emigration in person, but I am sure that the power of this music is completely universal.

Thank you Dominik for this wonderful gift of music and human sensitivity!
---