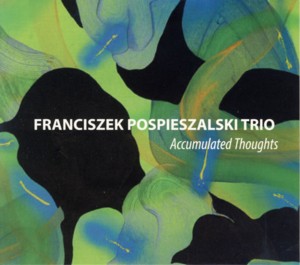 FRANCISZEK POSPIESZALSKI ~ ACCUMULATED THOUGHTS
NOT ON LABEL ~ POLAND ~ Jazz
Recorded: 2018
Released: 2019
---
This is the second album by young Polish Jazz bassist / composer Franciszek Pospieszalski

Find albums by this artist

, this time recorded in a classic piano trio Jazz setting with pianist Franciszek Raczkowski

Find albums by this artist

and Hungarian drummer Peter Somos

Find albums by this artist

. The album presents eight tracks, seven of which are original compositions by Pospieszalski and one is by the legendary British trumpeter / composer Kenny Wheeler

Find albums by this artist

. The music was recorded at the now legendary Monochrom Studio and engineered by Ignacy Gruszecki

Find albums by this artist

, with the expected exceptional sound quality.

In complete contrast to his debut album, which was an explosion of youthful exploration and discovery flirting mostly with Free Jazz and a myriad of other influences, this album is completely focused on melodic modern Jazz, coherent compositions and superb instrumental work by the trio.

Pospieszalski emerges here as a gifted composer, who is able to weave interesting and multilayered themes, as well as a superb bassist, with refined technique and remarkable feel for the music. His work as a trio member and as a soloist is absolutely spotless and inspired.

Raczkowski, who is a relative newcomer on the Polish scene, made an impressive progress as a player since his own debut album recorded three years earlier, and his splendid performances on acoustic and electric piano are a true delight from start to finish. His progress is heartwarming and definitely paves his way towards the incredibly crowded Polish Jazz pianist clique.

Somos is an excellent drummer, which is mostly evident from the fact that he is rather felt that heard. His elegant sense of rhythm and subtle use of his instrument are remarkable.

Overall this is a wonderful piano trio Jazz album, up to date and vibrant, full of excellent music and brilliant playing, definitely one of the most exciting of the kind that came to my attention in quite a while. Congratulations are in order for the chameleonic transformation Pospieszalski went through and for putting this trio together and I can´t wait to hear the next album by these young lions. A breathe of fresh air!
---